The 2022 Arizona Super Show
Event Information
The Arizona Super Show will return to State Farm Stadium for the 10 Year Anniversary in 2022.
The event will feature premier custom and classic cars, trucks, motorcycles, bicycles, pedal cars, and special interest exhibitors from across the western United States and beyond. The car show will highlight American classics and customs alike, while showcasing dazzling paints, interiors, and customized modifications that embody American culture through vehicles.
As part of the day's entertainment, there will be a car hop exhibition featuring the top contenders in the industry as well as some of the best artists in the country performing all day long!
Since the onset of COVID-19, State Farm Stadium has partnered with public health experts to create a safe and welcoming environment. New policies and procedures have been implemented to keep everyone safe – and we need your help to make it a success.
The Stadium Box Office is open Monday through Friday from 10am to 6pm. It is recommended to purchase your tickets in advance to avoid lines on event day.
Children ages 2-12 REQUIRE a ticket. Children's tickets can ONLY be purchased at the box offie. Children must be present at the time of purchase.
Children under 2 are free.
The NFL Clear Bag Policy will be enforced for all events at State Farm Stadium. State Farm Stadium strongly recommends fans to not bring any bags, however the following will be permitted: One clear bag no larger than 12" x 6" x 12" or a standard one (1) gallon freezer bag. Please review the complete bag policy by clicking here.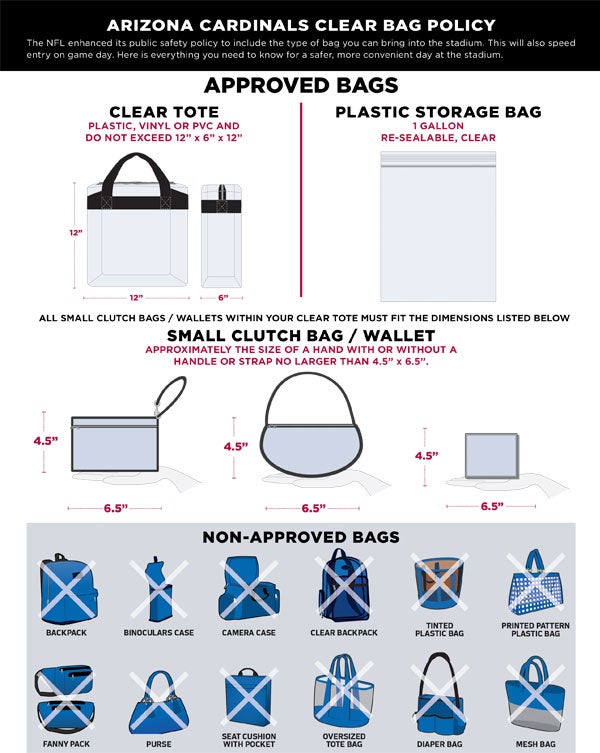 State Farm Stadium is committed to creating a safe, comfortable and enjoyable experience for all fans at State Farm Stadium, Sportsman's Park and throughout our parking areas. Our staff will promptly intervene to support an environment free from unruly or disruptive behavior including the following:
Behavior that is unruly, disruptive, or illegal in nature.
Intoxication or other signs of alcohol or substance impairment that results in irresponsible behavior.
You must follow all stadium policies, including health and safety policies, and posted instructions while in the stadium and on stadium grounds. An inherent risk of exposure to COVID-19 exists in any public place where people are present. COVID-19 is an extremely contagious disease that can lead to severe illness and death. According to the Centers For Disease Control and Prevention, senior citizens and those with underlying medical conditions are especially vulnerable. By entering the stadium and stadium grounds, you voluntarily assume all risks related to exposure to COVID-19.
Enhanced Health and Safety Protocols
First, and most importantly, the health and safety of all guests in State Farm Stadium is paramount.
Guidelines include:
Increasing sanitization of high touch point areas including door handles, hand rails, and elevator buttons
Installed hand sanitizer stations throughout the stadium
Implemented a cashless environment to decrease physical contact with fans
Added a Isolation Area for employees and fans who exhibit COVID-19 symptoms after entering the stadium
The following items are not permitted inside State Farm Stadium. There are no provisions to store items not allowed through security and items cannot be held by security staff members.
Aerosol Cans
Alcoholic Beverages
Animals (except for documented service animals)
Bags that do not meet NFL guidelines (must be clear and less than 12" x 12" x 6" in size)
Banners or signs larger than 3' x 2' or with a non-sport message
Beverages other than one (1) factory-sealed, non-frozen 500mL (16.9 fl. oz.) plain bottle of water (sport drinks and flavored water not permitted)
Beverage containers – glass bottles, cans and thermoses
Cameras with professional lenses (larger than 8 inches) and tripods/monopods
Chewing tobacco
E-cigarettes/Vaporizer Pens
Clothing deemed obscene or indecent in a public setting
Coolers of any kind
Fireworks
Food (except for children under the age of two years old)
Footballs and beach balls (inflated or deflated)
Illegal drugs
Laptop computers
Laser Pointers
Noise Makers of any kind (whistles, horns, bells, etc.)
Poles or Sticks of any kind, including "Selfie-Sticks" and brooms
Seat Cushions except those which are one piece and have no zippers, pockets or concealable areas
Golf carts, skateboards, rollerblades or hoverboards
Umbrellas larger than 12 inches in length
Unmanned aircraft systems (drones, etc.)
Video Cameras (single purpose)
Weapons of any kind including, but not limited to, firearms & knives
Any item deemed inappropriate or hazardous by stadium security
For more information on Prohibited Items, click here.
Metal detector screening and a search of all bags and other items being carried in will take place at stadium gates. There are no provisions available at the stadium to store or safeguard any prohibited bags. Guests will be asked to return prohibited items to their cars.