Browns vs. Cardinals
Event Information
The Cleveland Browns travel to State Farm Stadium to take on the Arizona Cardinals on Sunday, Decemeber with kickoff at 2:05PM.
Game Day Schedule
Carparks: 10:00AM
Great Lawn: 10:00AM
Club Gates: 10:45AM
Main Gates: 12:30PM
Kickoff: 2:05PM
Game Day Highlights
National Anthem: Ashley Wineland
Color Guard: United States Marine Corps
Halftime: $100,000 Kicking Contest
Jersey Color: Red
SafeTix Digital Ticketing
New for the 2019 season is SafeTix, or secure digital ticketing. This new technology allows smartphone access to digital tickets via the Arizona Cardinals mobile app. SafeTix offers an encrypted barcode that automatically refreshes every few seconds. SafeTix will allow fans to arrive at a show or game with confidence that their tickets are always 100% authentic.
For more information and a visual guide visit www.azcardinals.com/digitalticketing
To download the free Arizona Cardinals Mobile App visit www.azcardinals.com/app
On Cardinals game days, parking in Sportsman's Park is available both ticket holders with pre-sold permits and single event parking.
Fans with pre-purchased permits should follow the ingress route located on the back of the pass.
Cardinals Single Game Cash Parking: Single game parking is available only in the Black and Yellow Carparks. A limited number of parking spaces are available on a first come, first serve basis. Parking can be purchased in advance or at the entrance to the carpark with cash or credit card. Have payment ready upon entering the carpark.
Overflow Parking: Additional parking spaces are available north of Maryland Avenue in independently managed lots. Parking can be found in a variety of lots including both Westgate and Tanger Outlets Center.
Hours of Operation: Sportsman's Park carparks and other Cardinals parking areas open four (4) hours prior to kickoff and close one (1) hour after the conclusion of the game. Please follow the direction of law enforcement as vehicles cannot stage on or block the flow of traffic on city streets prior to the opening of carparks and lots. Vehicles are not permitted to park overnight prior to game day.
Parking Spaces: A parking hangtag is valid for one (1) parking space only. Trailers of any kind are not permitted. Parking spaces are available on a first come first served basis and cannot be reserved or saved. Groups that wish to park together must arrive at the same time.
Oversized Vehicles: The only oversized parking area is Lot F which opens 4 hours and 30 minutes prior to kickoff. Each oversized vehicle must have a valid "Lot F Oversized Vehicle" parking hangtag for access and is valid for one (1) parking space and one (1) vehicle only. Maximum parking space length is 45 feet. Speed Loading: Fans are asked to follow the direction of the parking team members to quickly park your vehicle.
Prohibited Items and Activities: Weapons of any kind, fireworks, unmanned aircraft systems (drones, etc.), glass containers as well as golf carts, Segways, skateboards, roller blades, bicycles, scooters, hover boards and other non-licensed motorized vehicles are not permitted to be operated.
Commercial Activity: The sale of goods or services, advertising or the display of commercial signage on vehicles is not permitted. Vehicles with exterior advertising can be stopped from entering even with a valid hangtag. Also, the placement of flyers or brochures on vehicles is prohibited.
Safety and Security: Sportsman's Park and other Cardinals parking areas are patrolled by parking lot and security team members and law enforcement officers. Tampering or removing of any parking lot infrastructure is strictly prohibited.
Traffic Conditions: For current traffic conditions refer to Arizona Department of Transportation.
Fan's vehicles that fail to comply with all Parking Guidelines will be subject to tow and all fees associated with the impounding of the vehicle are responsibility of the owner.
Black Lot, located South of State Farm Stadium, is the designated location for ride share drop-off and pickup for all Cardinals games.
Ride Share Pickup Instructions
Follow signage to Black Lot located to the South of State Farm Stadium through the pedestrian tunnel
Proceed to white Ride Share tent located within Black Lot
Activate Ride Share application, enter your destination, confirm pickup location
Stay at white tent until driver arrives and is parked
Obtain driver's stall number via text message
Communicate stall number to PRIDE Parking team member to be guided to correct location
The NFL Clear Bag Policy will be enforced for all Arizona Cardinals games. State Farm Stadium strongly recommend fans to not bring any bags, however the following will be permitted: One clear bag no larger than 12" x 6" x 12" or a standard one (1) gallon freezer bag. Please review the complete bag policy by clicking here.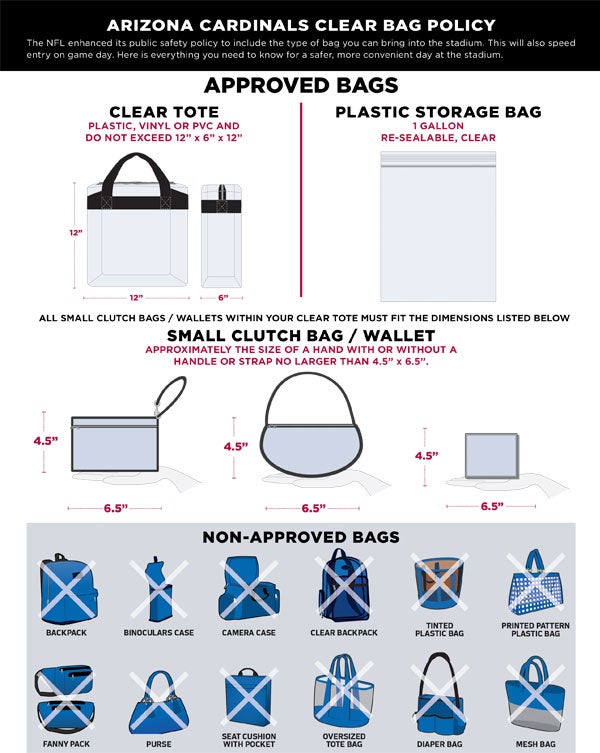 Metal detector screening and a search of all bags and other items being carried in will take place at stadium gates. There are no provisions available at the stadium to store or safeguard any prohibited bags. Guests will be asked to return prohibited items to their cars.
The following items are not permitted inside State Farm Stadium. There are no provisions to store items not allowed through security and items cannot be held by security staff members.
Aerosol Cans
Alcohol
Animals (except for service animals)
Bags not in accordance with the NFL Clear Bag Policy
Balloons
Banners or signs larger than 3' x 2'
Beverages other than one (1) factory-sealed, non-frozen 500mL (16.9 fl. Oz.) plain bottle of water (sport drinks and flavored water not permitted)
Beverage containers – Bottles, cans and thermos bottles
Brooms
Cameras with professional photo lenses
Chewing tobacco
Clothing deemed obscene or indecent
Coolers of any kind
E-cigarettes or vaporizer pens
Fireworks
Folding chairs
Food (except for children under the age of two)
Footballs and beach balls (inflated or deflated)
GoPro cameras
Illegal drugs
Laptop computers
Laser pointers
Mono/tripods
Noise makers (whistles, horns, bells, etc.)
Poles or sticks of any kind, including "Selfie-Sticks"
Umbrellas larger than 12 inches in length
Video cameras
Weapons – including, but not limited to, firearms & knives
Any item deemed inappropriate or hazardous by stadium security
Hours of Activity: Tailgating activities are permitted from the opening of the Great Lawn and all Cardinals parking areas (4 hours prior to game time) until kickoff only. Tailgating after the game has begun or postgame is not permitted.
Parking Spaces: Tailgating in the parking lots must be limited to the area directly in front of or behind the vehicle. Tents and tailgating equipment must not extend beyond the red painted fire lanes, along sidewalks and painted walkways or other areas deemed by stadium staff as an obstruction. Tailgating in empty stalls is prohibited, even with an unused hangtag.
Alcohol Consumption: Excessive or underage consumption of alcohol will not be tolerated. Drinking games or any other activity that is linked to competitive or binge drinking are not permitted. Games or activities determined by security staff to be unsafe or which could cause harm to other fans will not be allowed.
Grills: Natural gas or propane grills are permitted; however, charcoal grills and oil fryers are not permitted.
Tents: Fans are permitted to bring up to a 10' by 10' shade tent for use on the grass areas within Sportsman's Park. So that many fans can enjoy the Great Lawn and south fields, tailgate groups will be limited to one tent. Fans are not allowed to rope off or reserve large tailgate areas on the Great Lawn.
Food and Beverages: Fans are limited to preparing/ providing food and beverages for their family and friends only. Private catering companies or the sale of food or beverage items to other fans is not permitted.
Unmanned Aircraft Systems: Unmanned aircraft systems (i.e. drones, radio controlled model aircraft, etc.) are prohibited. Possession or operation of such devices will result in immediate ejection from the area and law enforcement intervention.
Audio Equipment: Portable public address systems are not permitted and large portable radios and sound systems inside vehicles cannot be used at excessive volume levels or play music not suitable for a public setting (i.e. profanity in lyrics) as determined by parking lot or security team member.
Generators: Small portable electric generators (6500W or less) are allowed, however, electrical cords cannot be placed across parking area drive aisles, any sidewalk or create a trip hazard for other fans.
Prohibited Items and Activities: Weapons of any kind, fireworks, glass containers, the sale of goods or services, advertising or the display of commercial signage on tents is not permitted.
Waste: The Cardinals encourage all fans to reduce, reuse and recycle and dispose of all waste in appropriate waste and recycling containers located throughout all tailgating areas.
*Tailgating on the Great Lawn, in Sportsman's Park or other Cardinals parking areas where permitted is intended for ticket holders only and fans are reminded that the Cardinals Code of Conduct extends throughout these areas.
If you require assistance during your visit to State Farm Stadium, or wish to report violations of the Code of Conduct, stadium staff can be reached by phone or text message:
Event Day Hotline: 623-433-7156

Text Message Hotline: Text "Cards" <SPACE> issue and location to 69050
Wheelchair assistance is available to guests upon entry into the stadium and is scheduled on a first-come, first-served basis. Requests for wheelchair assistance can be made by asking a stadium staff member or by visiting a Guest Services Office located near Sections 104, 123, 417 and 448.

The stadium will provide wheelchairs and a staff member to escort guests to their seats, but it is requested that mobility impaired patrons be accompanied by another adult in their party. Upon arrival at the seating location, guests are required to surrender wheelchairs to stadium staff.
The Arizona Cardinals Team Store at State Farm Stadium is open extended hours on Cardinals game days.
Plan your experience at State Farm Stadium by viewing the Interactive Stadium Map. Find your section, the closest restroom, and favorite gameday fare plus much more.