Chiefs v. Cardinals
Preseason Week 2
Event Information
This primetime, preseason matchup will bring the Kansas City Chiefs to State Farm Stadium to take on the Arizona Cardinals.
Game Day Schedule
Parking Lots: 1:00PM
Great Lawn: 1:00PM
Brew Haus: 2:00PM
Club Gates: 2:00PM
Main Gates: 3:30PM
Kickoff: 5:00PM
Enhanced Health and Safety Protocols
First, and most importantly, the health and safety of all guests in State Farm Stadium is paramount.
Requiring face coverings for all employees and fans
Increasing sanitization of high touch point areas including door handles, hand rails, and elevator buttons
Installed hand sanitizer stations throughout the stadium
Rearranged check-in and break areas to increase physical distancing
Implemented a cashless environment to decrease physical contact with fans
Implemented a minimum of three empty seats and at least one row of separation between all available seat groupings
Seats only sold in quantities of two
Requiring health screening and temperature checks for all employees
Placed signage inside and outside the stadium to remind everyone to stay physically distant
No seats will be available in the first 8 rows of the lower level
Reduced elevator capacity
Modified sinks and restroom stalls to encourage physical distancing
Added a Isolation Area for employees and fans who exhibit COVID-19 symptoms after entering the stadium
Please refer to the Arizona Cardinals Health & Safety Protocols to best ensure adherence to recommended physical distancing guidelines.
All ticket holders must agree that neither they, nor any of their guests, will attend a game if any one or more of the following is true on game day:
Within the prior 14 days, they have tested positive for, or been exposed to someone who has tested positive for, COVID-19;
Within the prior 48 hours, they have experienced symptoms of COVID-19 (e.g., a fever of 100.4°F or higher, cough, shortness of breath or difficulty breathing, chills, repeated shaking, muscle pain/achiness, headache, sore throat, loss of taste or smell, nasal congestion, runny nose, vomiting, diarrhea, fatigue or any other symptoms associated with COVID-19 identified by the CDC);
Within the prior 14 days, they have traveled to any state or international territory identified by federal or applicable local governments as being subject to travel or quarantine advisories due to COVID-19.
Please note: According to the CDC, older adults and people of any age with serious underlying medical conditions may be at higher risk of death or severe illness from COVID-19. All guests should evaluate their risk in determining whether to attend a game.
To help maintain physical distancing guidelines, ticketholders must also agree that they will not sell, transfer or otherwise provide any of their game tickets to anyone other than family with whom they have been sheltering (or other trusted acquaintances), unless selling, transferring or otherwise providing all such tickets (i.e., the full pod of tickets) to one party.
Protecting the Cardinals starts with you. Face covering must be worn at all times in Sportsmans Park and inside State Farm Stadium unless you are actively eating or drinking while in your seat.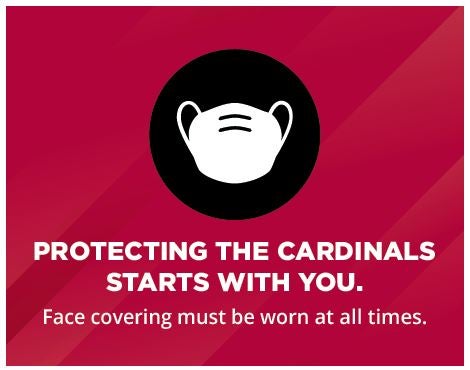 All vehicles parking on site must have a ticket to the game. Please have your QR Code ready to scan upon entry to your assigned parking lot. Day of event paid parking will be debit or credit card only. No cash accepted in parking lots. To encourage social distancing outside the facility, vehicles will be parked every other space. Please follow instructions from parking staff. Please put on your face covering prior to exiting your vehicle, so it is worn in the carparks and as you approach the stadium. Fans vehicles that fail to comply with all Parking Guidelines will be subject to tow and all fees associated with the impounding of the vehicle are the responsibility of the owner.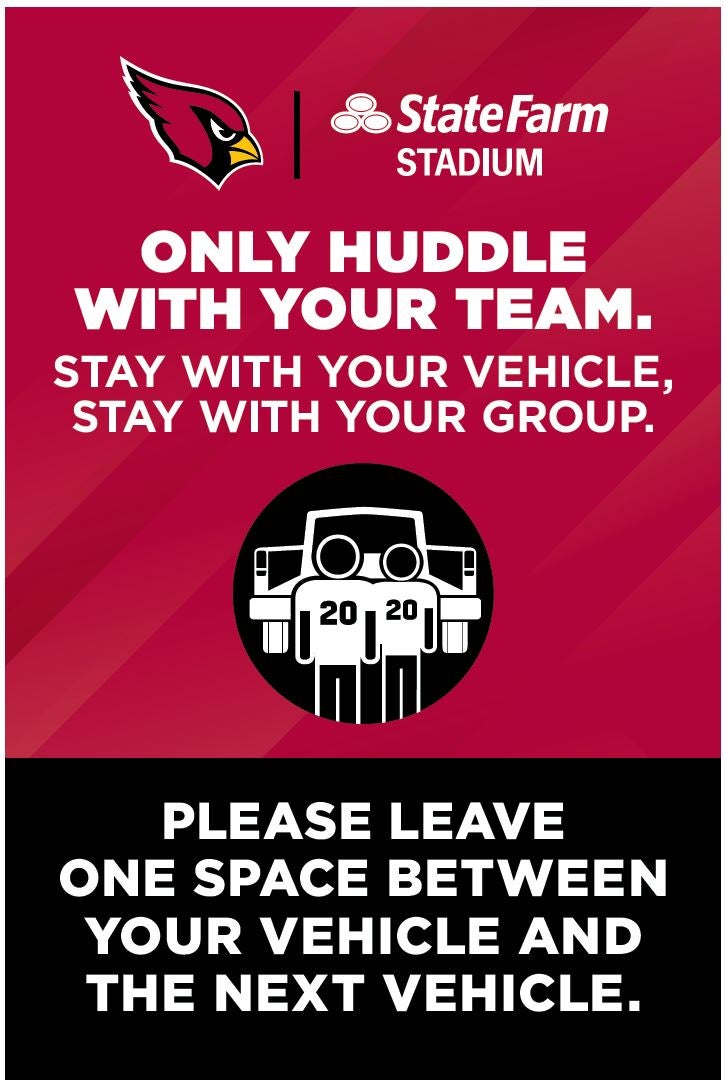 The NFL Clear Bag Policy will be enforced for all Arizona Cardinals games. State Farm Stadium strongly recommend fans to not bring any bags, however the following will be permitted: One clear bag no larger than 12" x 6" x 12" or a standard one (1) gallon freezer bag. Please review the complete bag policy by clicking here.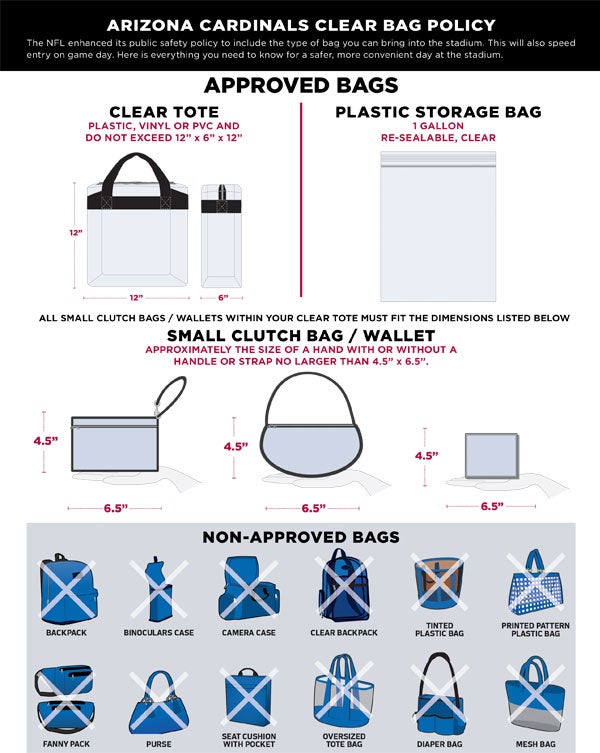 Metal detector screening and a search of all bags and other items being carried in will take place at stadium gates. There are no provisions available at the stadium to store or safeguard any prohibited bags. Guests will be asked to return prohibited items to their cars.
The following items are not permitted inside State Farm Stadium. There are no provisions to store items not allowed through security and items cannot be held by security staff members.
Aerosol Cans
Alcoholic Beverages
Animals (except for documented service animals)
Bags that do not meet NFL guidelines (must be clear and less than 12" x 12" x 6" in size)
Banners or signs larger than 3' x 2' or with a non-sport message
Beverages other than one (1) factory-sealed, non-frozen 500mL (16.9 fl. oz.) plain bottle of water (sport drinks and flavored water not permitted)
Beverage containers – glass bottles, cans and thermoses
Cameras with professional lenses (larger than 8 inches) and tripods/monopods
Chewing tobacco
E-cigarettes/Vaporizer Pens
Clothing deemed obscene or indecent in a public setting
Coolers of any kind
Fireworks
Food (except for children under the age of two years old)
Footballs and beach balls (inflated or deflated)
Illegal drugs
Laptop computers
Laser Pointers
Noise Makers of any kind (whistles, horns, bells, etc.)
Poles or Sticks of any kind, including "Selfie-Sticks" and brooms
Seat Cushions except those which are one piece and have no zippers, pockets or concealable areas
Golf carts, skateboards, rollerblades or hoverboards
Umbrellas larger than 12 inches in length
Unmanned aircraft systems (drones, etc.)
Video Cameras (single purpose)
Weapons of any kind including, but not limited to, firearms & knives
Any item deemed inappropriate or hazardous by stadium security
For more infomration on Prohibited Items, click here.
The Great Lawn will not be open and tailgating is discouraged, and will be permitted and limited to your own vehicle space. Guests are encouraged to limit participation to their own traveling party who must adhere to physical distancing guidelines set forth by the Arizona Cardinals, the NFL and or local, state and/or national authorities. Vehicles will be parked every other space to provide physical distance in parking lots.
If you require assistance during your visit to State Farm Stadium, or wish to report violations of the Code of Conduct, stadium staff can be reached by phone or text message:
Event Day Hotline: 623-433-7156

Text Message Hotline: Text "Cards" <SPACE> issue and location to 69050
Wheelchair assistance is available to guests upon entry into the stadium and is scheduled on a first-come, first-served basis. Requests for wheelchair assistance can be made by asking a stadium staff member or by visiting a Guest Services Office located near Sections 104, 123, 417 and 448.

The stadium will provide wheelchairs and a staff member to escort guests to their seats, but it is requested that mobility impaired patrons be accompanied by another adult in their party. Upon arrival at the seating location, guests are required to surrender wheelchairs to stadium staff.
The Arizona Cardinals Team Shop at State Farm Stadium will be open on gameday only to Cardinals Season Ticket Members. Access can only occur from the interior of the stadium.
You must follow all stadium policies, including health and safety policies, and posted instructions while in the stadium and on stadium grounds. An inherent risk of exposure to COVID-19 exists in any public place where people are present. COVID-19 is an extremely contagious disease that can lead to severe illness and death. According to the Centers For Disease Control and Prevention, senior citizens and those with underlying medical conditions are especially vulnerable. By entering the stadium and stadium grounds, you voluntarily assume all risks related to exposure to COVID-19.
The Arizona Cardinals and State Farm Stadium are committed to creating a safe, comfortable and enjoyable experience for all fans at State Farm Stadium, Sportsman's Park and throughout our parking areas. Our staff will promptly intervene to support an environment free from unruly or disruptive behavior including the following:
Failure to comply with stadium policies, including policies requiring face coverings and requirements to maintain 6' physical distancing. Face coverings must be worn at all times unless you are actively eating or drinking while in your seat.
Behavior that is unruly, disruptive, or illegal in nature.
Intoxication or other signs of alcohol or substance impairment that results in irresponsible behavior.
See the comprehensive Code of Conduct on AZCardinals.net.