Deer Valley School District Graduations
Event Information
State Farm Stadium congratulates the graduates and families of the Deer Valley class of 2021!
| High School | Doors Open | Ceremony | Parking Lot | Parking Opens | Entry Gate |
| --- | --- | --- | --- | --- | --- |
| Mt. Ridge | 7:30AM | 8:30AM | West | 6:30AM | Gate 1 |
| Barry Goldwater | 11AM | 12PM | East | 10AM | Gate 3 |
| Sandra Day O'Connor | 2PM | 3PM | West | 1PM | Gate 1 |
Enhanced Health and Safety Protocol
First, and most importantly, the health and safety of all guests in State Farm Stadium is paramount.
Requiring face coverings for all employees and fans
Increasing sanitization of high touch point areas including door handles, hand rails, and elevator buttons
Installed hand sanitizer stations throughout the stadium
Rearranged check-in and break areas to increase physical distancing
Implemented a cashless environment to decrease physical contact with fans
Implemented a minimum of three empty seats and at least one row of separation between all available seat groupings
Requiring health screening and temperature checks for all employees
Placed signage inside and outside the stadium to remind everyone to stay physically distant
Reduced elevator capacity
Modified sinks and restroom stalls to encourage physical distancing
Added a Isolation Area for employees and fans who exhibit COVID-19 symptoms after entering the stadium
All guests must agree that neither they will attend a graduation if any one or more of the following is true on the day of graduation:
Within the prior 14 days, they have tested positive for, or been exposed to someone who has tested positive for, COVID-19;
Within the prior 48 hours, they have experienced symptoms of COVID-19 (e.g., a fever of 100.4°F or higher, cough, shortness of breath or difficulty breathing, chills, repeated shaking, muscle pain/achiness, headache, sore throat, loss of taste or smell, nasal congestion, runny nose, vomiting, diarrhea, fatigue or any other symptoms associated with COVID-19 identified by the CDC);
Within the prior 14 days, they have traveled to any state or international territory identified by federal or applicable local governments as being subject to travel or quarantine advisories due to COVID-19.
Please note: According to the CDC, older adults and people of any age with serious underlying medical conditions may be at higher risk of death or severe illness from COVID-19. All guests should evaluate their risk in determining whether to attend.
Tickets and Assigned Seating
This year, a limited number of tickets will be distributed in order to facilitate physical distancing within the seating area State Farm Stadium:
Tickets are distributed by high school; all questions should be directed to the high school
Tickets will be distributed only in pods of two tickets
Children two and under will not need a ticket if they are seated on the lap of a ticketed guest
All guests must present a ticket up on arrival to State Farm Stadium
Guests must sit in their assigned seat printed on their ticket
If ADA accomidations are necessary, a Guest Services Representative will be on site to assist
In accordance with local requirements, face coverings must be worn by everyone at all times while at State Farm Stadium. This policy applies to all staff, visitors, guests, ticketholders or any others in all areas of the stadium except for when actively eating or drinking while in a designated seated area.
The policy applies to all persons 2 years of age or older.
For guests or ticket holders, removal of face coverings while actively eating or drinking is only permitted while in designated seating areas. To minimize the potential for close contacts between guests, the consumption of food or beverages on concourses or in other public spaces of the stadium is not permitted.
Face coverings must be properly worn and must completely cover the nose and mouth.
In accordance with CDC guidelines, face shields are not an acceptable replacement for a face covering and may not be utilized in place of a face covering.
In accordance with CDC guidelines, face coverings with exhalation valves or vents are not acceptable for use.
All face coverings must:
Fully cover the nose and mouth and secure under the chin.
Fit snugly but comfortably against the sides of the face.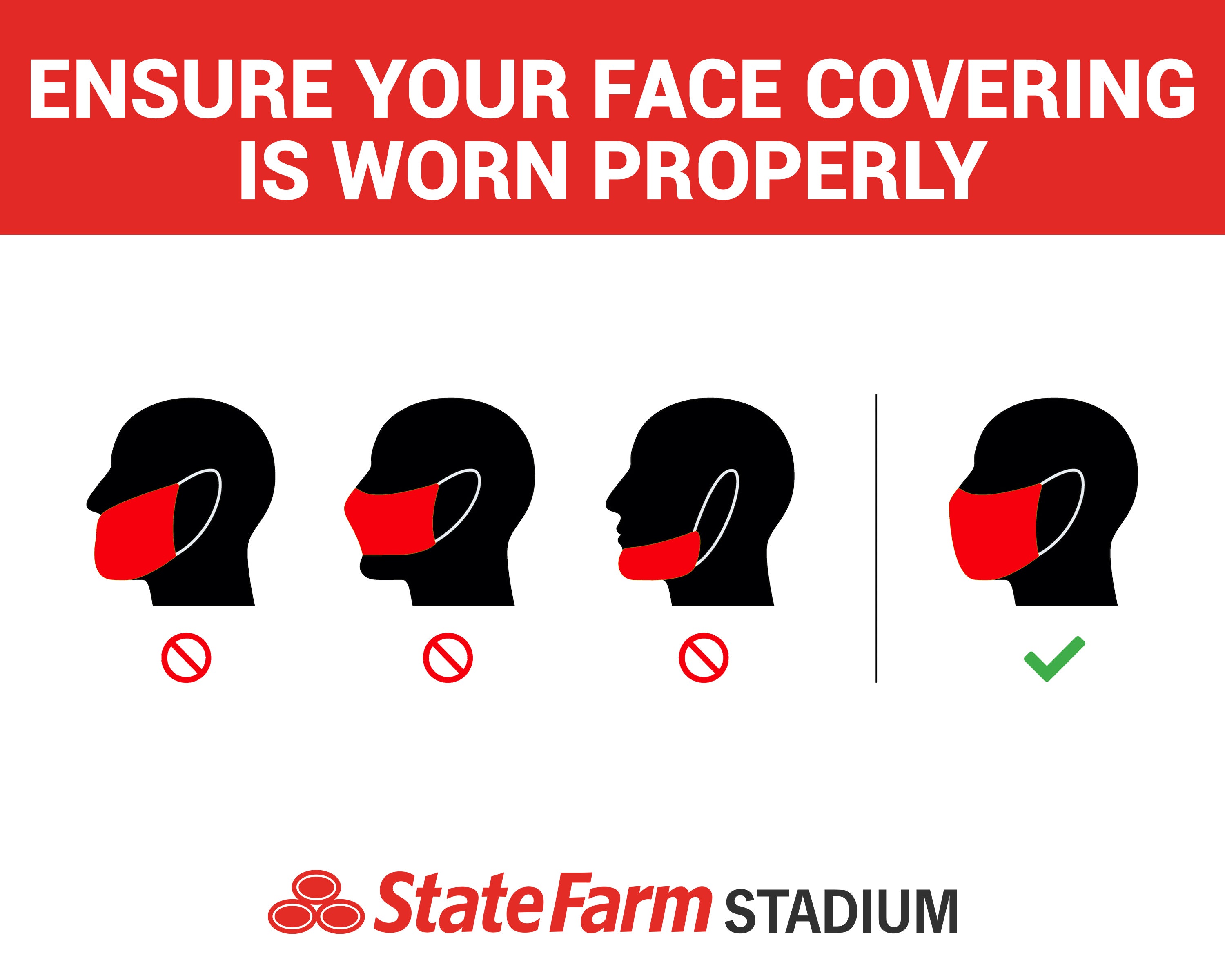 ​
Graduate and guest parking is limited to the location designated by the graduate's high school. To encourage social distancing outside the facility, vehicles will be parked every other space. Please follow instructions from parking staff. Please put on your face covering prior to exiting your vehicle, so it is worn in the carpark and as you approach the stadium. The following items are not permitted inside State Farm Stadium. There are no provisions to store items not allowed through security and items cannot be held by security staff members.
Aerosol Cans
Alcoholic Beverages
Animals (except for documented service animals)
Bags that do not meet NFL guidelines (must be clear and less than 12" x 12" x 6" in size)
Banners or signs larger than 3' x 2' or with a non-sport message
Beverages other than one (1) factory-sealed, non-frozen 500mL (16.9 fl. oz.) plain bottle of water (sport drinks and flavored water not permitted)
Beverage containers – glass bottles, cans and thermoses
Cameras with professional lenses (larger than 8 inches) and tripods/monopods
Chewing tobacco
E-cigarettes/Vaporizer Pens
Clothing deemed obscene or indecent in a public setting
Coolers of any kind
Fireworks
Food (except for children under the age of two years old)
Footballs and beach balls (inflated or deflated)
Illegal drugs
Laptop computers
Laser Pointers
Noise Makers of any kind (whistles, horns, bells, etc.)
Poles or Sticks of any kind, including "Selfie-Sticks" and brooms
Seat Cushions except those which are one piece and have no zippers, pockets or concealable areas
Golf carts, skateboards, rollerblades or hoverboards
Umbrellas larger than 12 inches in length
Unmanned aircraft systems (drones, etc.)
Video Cameras (single purpose)
Weapons of any kind including, but not limited to, firearms & knives
Any item deemed inappropriate or hazardous by stadium security
For more information on Prohibited Items, click here.
Frequently Asked Questions
Are face coverings required?
Yes. Face coverings are required for all in attendance with the exception of children under the age of 2 years.
Will face coverings be provided?
State Farm Stadium strongly encourages all attendees to bring their own face covering however disposable masks will be available for those who do not have appropriate face coverings.
What preventative steps is the stadium taking against COVID-19?
At State Farm Stadium, the health and safety of our guests and staff is our top priority.
Encouraging Social Distancing

Please observe 6' of distance between guests.
Please observe floor sticker in any areas where applicable.
Please sit only in assigned, ticketed seats.

Enhanced Cleaning & Sanitization

The stadium has implemented enhanced cleaning and sanitization processes throughout the stadium including in the seating bowl and stadium restrooms.

Personal Protective Equipment (PPE)

All stadium staff and event attendees will wear face coverings.
What additional precautions should guests take?
Check yourself for any signs or symptoms of COVID-19. Stay home if you are sick or showing any signs or symptoms.
Wash hands often with soap and water for at least 20 seconds. If soap and water are not available, use an alcohol-based hand sanitizer that contains at least 60% alcohol.
Avoid touching your eyes, nose, and mouth with unwashed hands.
Avoid close contact with people who are sick.
Cover your cough or sneeze with a tissue, then throw the tissue in the trash.
Individuals at higher risk for severe illness should consider not attending.
You must follow all stadium policies, including health and safety policies, and posted instructions while in the stadium and on stadium grounds. An inherent risk of exposure to COVID-19 exists in any public place where people are present. COVID-19 is an extremely contagious disease that can lead to severe illness and death. According to the Centers For Disease Control and Prevention, senior citizens and those with underlying medical conditions are especially vulnerable. By entering the stadium and stadium grounds, you voluntarily assume all risks related to exposure to COVID-19.