Def Leppard + Motley Crue
The Stadium Tour
Event Information
The world's most iconic and celebrated rock legends will hit the road together next summer for a coheadlining tour SO MASSIVE that it could only be held in America's biggest stadiums. THE STADIUM TOUR featuring DEF LEPPARD, MÖTLEY CRÜE, with POISON and JOAN JETT & THE BLACKHEARTS will hit select cities in the U.S. where each band will bring their electrifying stage shows while promising to perform their stadium sized anthems.
Parking Lots Open - 2:30 PM
Gates Open - 3:30 PM
Concert Starts - 4:00 PM
Tickets can be purchased at Ticketmaster.com, Ticketmaster Express at 1-866-448-7849, or Ticketmaster App on a mobile device. Tickets are not available for purchase at the stadium Box Office.
All individuals, including children, attending the event must have a ticket.
Tickets for the originally scheduled 2020 date will be valid for the 2022 show.
Each of our Premium Spaces is designed to provide the highest level of quality through the easy access to comfortable stadium seating and contemporary furniture inside the private space – the best way to watch any event! Each Premium Space includes private entrance through Gila River Casinos East or West Gates, access to Gila River Casinos Club Level amenities, and opportunity to purchase exclusive food and beverage items.
All-Inclusive Party Lofts Package includes dedicated restrooms, sleek bar area, multiple large flat-screen televisions, upgraded stadium seating and a variety of seating locations to accommodate business and entertainment. Package includes concert ticket, unlimited fully catered menu, complimentary beer and wine, preferred parking pass and access to Gila River Casinos Club Level amenities. Individual tickets can be purchased in the party loft.
Field Boxes include prime mid-field location, upgraded stadium seating, large flat-screen television.
Premium Seating is the best way to watch any event! Contact premiumseats@statefarmstadium.com to be added to the waiting list.
If driving to the match, heavy traffic on all roadways should be anticipated and planned for with the heaviest volume anticipated between 5PM and 7PM. We strongly recommend that fans plan for extra time getting to the stadium and to carpool and arrive no later than 5PM to minimize the potential for delays.
State Farm Stadium is located in Glendale, Arizona, 16 miles (approximately 24 minutes) west of downtown Phoenix. The stadium should be accessed from AZ Loop 101 utilizing Exit 5 (Camelback Road) or Exit 7B (Glendale Road).
The Glendale Traffic Management Center, in partnership with ADOT, will be monitoring event day traffic and providing real-time traffic management via Twitter at www.twitter.com/GlendaleTraffic. Fans can also call 511 for the latest updated traffic information.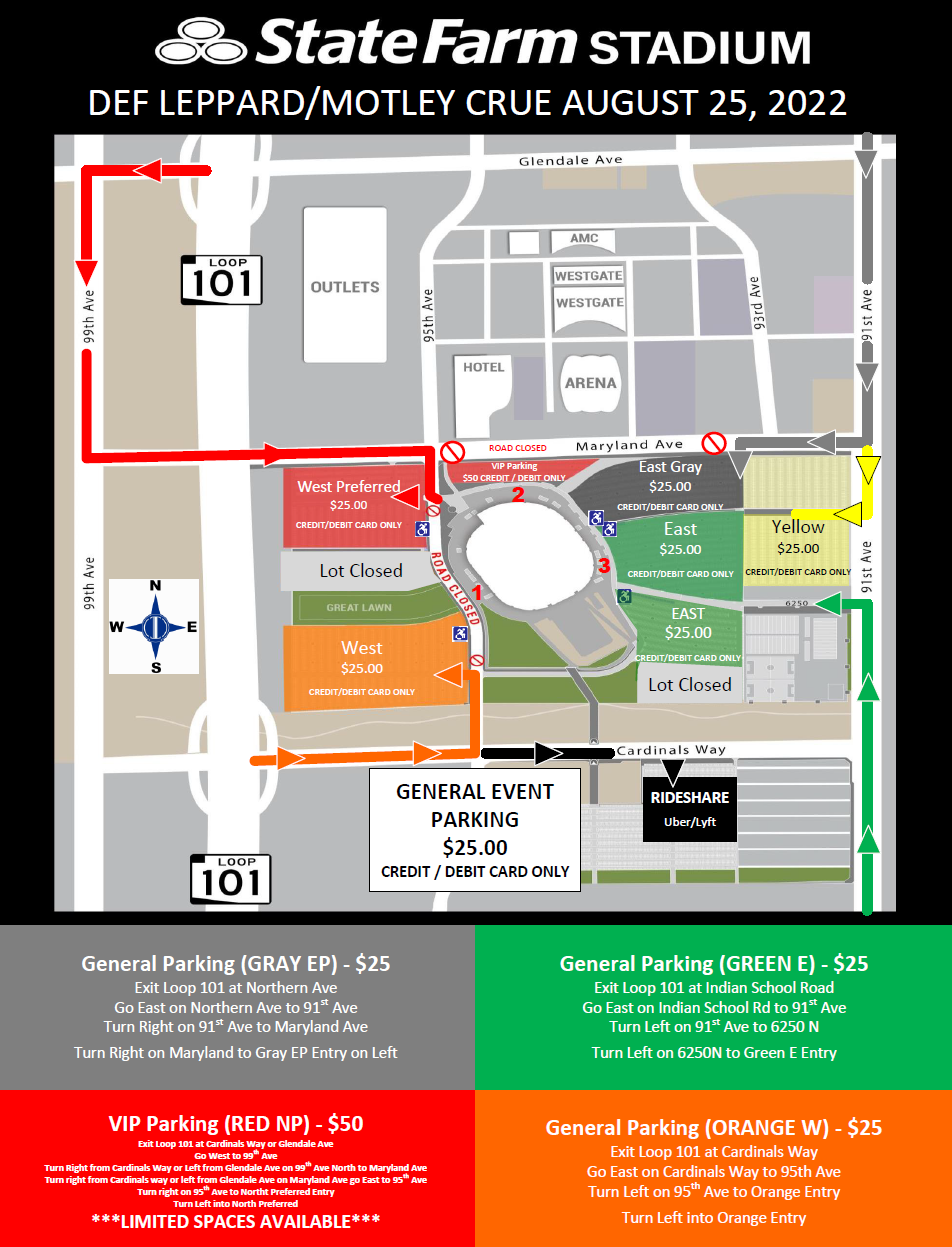 Upon arrival to the stadium area, fans should follow the directions of Glendale Police Officers and park in the first available lot. All parking lots in the Glendale Sports and Entertainment District are conveniently located and a 5 to 10 minute walk to the stadium depending on the lot location. Credit/Debit Card, Apply Pay, Google Pay and Samsung Pay are accepted at all Sportsman's Park carparks. Please have payment ready upon arrival to the lot.
Metal detector screening and a search of all bags and other items being carried in will take place at stadium gates. There are no provisions available at the stadium to store or safeguard any prohibited bags. Guests will be asked to return prohibited items to their cars.
The following items are not be permitted inside State Farm Stadium. Metal detector screening and bag search will take place. Items not allowed into the stadium must be returned to car or discarded.
Aerosol Cans
Alcohol
Animals (except for service animals)
Bags not in accordance with the NFL Clear Bag Policy
Balloons
Banners or signs larger than 3' x 2'
Beverages other than one (1) factory-sealed, non-frozen 500mL (16.9 fl. Oz.) plain bottle of water (sport drinks and flavored water not permitted)
Beverage containers – Bottles, cans and thermos bottles
Brooms
Cameras with professional photo lenses including iPads
Chewing tobacco
Clothing deemed obscene or indecent
Coolers of any kind
E-cigarettes or vaporizer pens
Fireworks
Folding chairs
Food (except for children under the age of two)
Footballs and beach balls (inflated or deflated)
GoPro cameras
Illegal drugs
Laptop computers
Laser pointers
Mono/tripods
Noise makers (whistles, horns, bells, etc.)
Poles or sticks of any kind, including "Selfie-Sticks"
Umbrellas larger than 12 inches in length
Video cameras
Weapons – including, but not limited to, firearms & knives
Any item deemed inappropriate or hazardous by stadium security
State Farm Stadium enforces a Clear Bag Policy for all concerts.
The Clear Bag Policy strictly limiting the size and type of bags permitted into the stadium is enforced for most events. Fans are strongly encouraged to not bring any bags or purses if possible. The following will be permitted:
Each fan may carry one bag of clear plastic, vinyl, or PVC no larger than 12" x 6" x 12" -OR- a one-gallon clear plastic freezer bag (Ziploc or similar).
Fans may also carry a small clutch or wallet 4.5" x 6.5" with or without a handle or strap, subject to search.
For more information on Clear Bag Policy, click here.
If you have tickets on your mobile device, locate the tickets in the Ticketmaster App or the mobile Ticketmaster website. Ticket barcodes can be found in the Ticketmaster app or website under My Account. Downloading ticket(s) to a phone's digital wallet prior to the event is recommended as it will allow for seamless entry into the stadium if there is limited cell phone service. If tickets were purchased for friends or family, transfer tickets so each fan scans a ticket at the door. Upon arrival at the stadium, present the barcode to the ticket scanner and you're in. Click here for Mobile Entry FAQ
On event day, if you require assistance during your visit to State Farm Stadium, stadium staff can be reached by texting your question or issue to 623-400-2210. Make sure to include details and location to ensure the fastest assistance.
Wheelchair assistance is available to guests upon entry into the stadium and is scheduled on a first-come, first-served basis. Requests for wheelchair assistance can be made by asking a stadium staff member or by visiting a Guest Services Office located near Sections 104, 123, 417 and 448.

The stadium will provide wheelchairs and a staff member to escort guests to their seats, but it is requested that mobility impaired patrons be accompanied by another adult in their party. Upon arrival at the seating location, guests are required to surrender wheelchairs to stadium staff.
Plan your experience at State Farm Stadium by viewing the Interactive Stadium Map. Find your section, the closest restroom, and favorite event day fare plus much more.