PlayStation® Fiesta Bowl
College Football Playoff Semifinal | Ohio State vs. Clemson
Event Information
The Valley of the Sun will be in the national spotlight once again for the 49th Annual PlayStation® Fiesta Bowl as Ohio State and Clemson take the field at State Farm Stadium on December 28th.
Game Day Schedule
Parking Lots: 11:00AM
Fan Fest & Stadium Club: 12:00PM - 5:00PM
Main Gates: 4:00PM
Opening Ceremonies: 5:30PM
Kickoff: 6:00PM
Plan ahead to make your Playstation® Fiesta Bowl experience the best that it can be! With answers on topics ranging from Alcohol to Wheelchair Assistance, the A-Z Guide will provide the most up to date information for the 2019 game.
Click here to review the Playstation® Fiesta Bowl A-Z Guide.
APS Fiesta Bowl Stadium Club Pregame Party
Kick your pregame festivities up a notch at the APS Fiesta Bowl Stadium Club Pregame Party in an exclusive area located on the Great Lawn at State Farm Stadium. APS Stadium Club is unlike any other tailgate you have ever experienced, offering big screen televisions, live entertainment, an all-you-can-eat buffet and seven complimentary drink tickets. Creating the ultimate game day atmosphere, APS Stadium Club offers the best value of any tailgate party around.
A limited number of tickets are still available for sale at FiestaBowl.org. The game is expected to be SOLD OUT on game day.
All fans, including children 2 and under, entering the building will need a ticket.
Upon arrival to the stadium area, fans should follow the directions of Glendale Police Officers. All parking lots in the Glendale Sports and Entertainment District are conveniently located and a 5 to 10 minute walk to the stadium depending on the lot location.
Fans with parking permits should follow the route located on the back side of their parking permit.
Game-day parking is available in Black, Blue, and Pink lots and costs $35 per vehicle. Please have cash or credit card ready upon entry into the lot.
For fans travelling North on AZ Loop 101 - Black Lot can be accessed from AZ Loop 101 utilizing Exit 5 (Camelback Road).
For fans travelling South on AZ Loop 101 - Blue and Pink lots can be accessed from AZ Loop 101 utilizing exit 7B (Glendale Avenue).
Tailgating is permitted in all stadium parking lots however no tailgating will be allowed in Westgate lots. For those who would like to tailgate, please arrive early and park in a stadium lot.
Luxury Loft and Luxury Party Loft ticket packages include commemorative tickets, access to the APS Stadium Club Pregame Party, offical programs, parking passes, and food and beverage credits.
For more information or to reserve premium seating for the Fiesta Bowl, email [email protected]
The NFL Clear Bag Policy will be enforced for the Fiesta Bowl. State Farm Stadium strongly recommends fans to not bring any bags, however the following will be permitted: One clear bag no larger than 12" x 6" x 12" or a standard one (1) gallon freezer bag. Please review the complete bag policy by clicking here.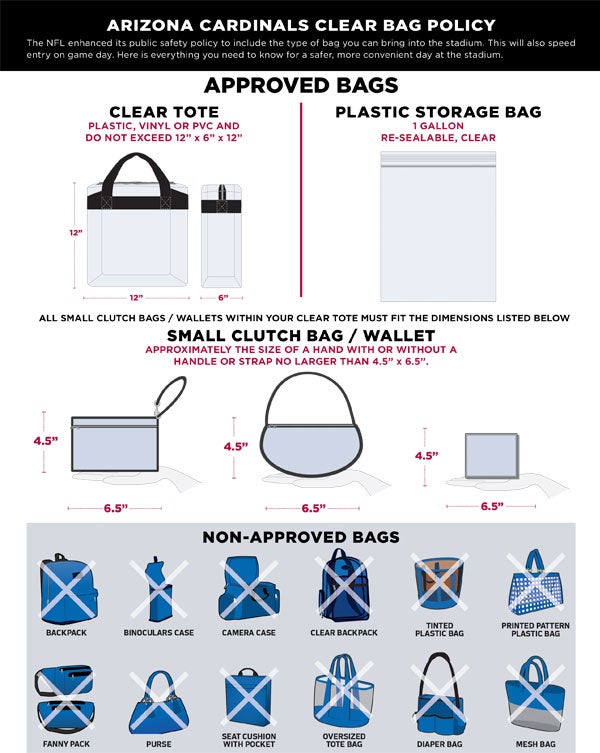 Pre-Game Tailgating
Pre-game tailgating is allowed in Sportsman's Park carparks surrounding State Farm Stadium. Carparks open seven (7) hours prior to kickoff. Respect fellow fans by only occupying one parking stall. Tailgating should take place directly behind a vehicle or in adjacent landscape areas only. Do not block other stalls, walkways or any aisle ways with tents, trailers, chairs, coolers or barbeques. Saving parking spaces is not allowed at any time. Fans who want to tailgate together must arrive together. Tailgating activities are allowed from when carparks open until kickoff only. Sportsman's Park carparks close one (1) hour after the game.
Metal detector screening and a search of all bags and other items being carried in will take place at stadium gates. There are no provisions available at the stadium to store or safeguard any prohibited bags. Guests will be asked to return prohibited items to their cars.
The following items are not permitted inside State Farm Stadium. There are no provisions to store items not allowed through security and items cannot be held by security staff members.
Aerosol Cans
Alcohol
Animals (except for service animals)
Bags not in accordance with the NFL Clear Bag Policy
Balloons
Banners or signs larger than 3' x 2'
Beverages other than one (1) factory-sealed, non-frozen 500mL (16.9 fl. Oz.) plain bottle of water (sport drinks and flavored water not permitted)
Beverage containers – Bottles, cans and thermos bottles
Brooms
Cameras with professional photo lenses
Chewing tobacco
Clothing deemed obscene or indecent
Coolers of any kind
E-cigarettes or vaporizer pens
Fireworks
Folding chairs
Food (except for children under the age of two)
Footballs and beach balls (inflated or deflated)
GoPro cameras
Illegal drugs
Laptop computers
Laser pointers
Mono/tripods
Noise makers (whistles, horns, bells, etc.)
Poles or sticks of any kind, including "Selfie-Sticks"
Umbrellas larger than 12 inches in length
Video cameras
Weapons – including, but not limited to, firearms & knives
Any item deemed inappropriate or hazardous by stadium security
Wheelchair assistance is available to guests upon entry into the stadium and is scheduled on a first-come, first-served basis. Requests for wheelchair assistance can be made by asking a stadium staff member or by visiting a Guest Services Office located near Sections 104, 123, 417 and 448.

The stadium will provide wheelchairs and a staff member to escort guests to their seats, but it is requested that mobility impaired patrons be accompanied by another adult in their party. Upon arrival at the seating location, guests are required to surrender wheelchairs to stadium staff.
Plan your experience at State Farm Stadium by viewing the Interactive Stadium Map. Find your section, the closest restroom, and favorite gameday fare plus much more.