SOLD OUT Concacaf Gold Cup Quarterfinals
Qatar vs. El Salvador + Mexico vs. Honduras
Event Information
In an exciting double-header matchup, State Farm Stadium will play host to the Concacaf Gold Cup Quarterfinal matches in the Knockout Stage.
Quarterfinals - Glendale, AZ
4:30PM Quarterfinal Match: Qatar vs. El Salvador
7:00PM Quarterfinal Match: Mexico vs. Honduras
Match Day Timeline
Box Office Opens: 10AM
Parking Lot Opens: 1:30PM
Fan Zone Opens: 2:30PM
Gates Open: 3PM
Match 1 Kickoff: 4:30PM
Match 2 Kickoff: 7PM
Premium Seating Opportunities
PREMIUM SEATING OPPORTUNITIES AVAILABLE
Each Premium Space is designed to provide the highest level of quality through easy access to comfortable appointments and contemporary furniture inside the private space – the best way to watch any event!
All-Inclusive Party Loft Tickets
Leave all the planning to us! Take in the action of Gold Cup in the stadium's Party Loft, located on Loft Level, and receive complementary food, sodas, beer and parking.

Minimum Purchase: 2 Tickets
Maximum Purchase: 124 Tickets
18 person or 24 person
Private Lofts provide an intimate experience for up to 24 fans. Private restrooms, modern appointments, and a dedicated attendant create a perfect entertaining space.
6 Parking Passes
For more information or to purchase Premium Seating email premiumseats@statefarmstadium.com or call 623-433-7157.
Box Office Opens: 10AM
Parking Lot Opens: 1:30PM
Fan Zone Opens: 2:30PM
Gates Open: 3PM
Match 1 Kickoff: 4:30PM
Match 2 Kickoff: 7PM
Enhanced Health and Safety Protocol
First, and most importantly, the health and safety of all guests in State Farm Stadium is paramount.
Increasing sanitization of high touch point areas including door handles, hand rails, and elevator buttons
Installed hand sanitizer stations throughout the stadium
Implemented a cashless environment to decrease physical contact with guests
Requiring health screening for all employees
Added a Isolation Area for employees and guests who exhibit COVID-19 symptoms after entering the stadium
Fully vaccinated ticketholders & event attendees will not be required to wear masks or facial coverings while attending events at State Farm Stadium. Non-vaccinated individuals are strongly encouraged to continue to adhere to the face covering recommendations of the CDC and local health authorities.
The policy applies to all persons 2 years of age or older.
It is recommended that face coverings:

Fully cover the nose and mouth and secure under the chin.
Fit snugly but comfortably against the sides of the face.
The stadium should be accessed from AZ Loop 101 utilizing Exit 5 Camelback Road or Exit 7B Glendale Road.
The Glendale Traffic Management Center, in partnership with ADOT, will be monitoring event daytraffic and providing real-time traffic management via Twitter - @GlendaleAZPD. Fans can also call 511 for the latest updated traffic information.
Parking is now a contactless experience at State Farm Stadium. Credit or debit cards will only beaccepted upon arrival into lots - no cash. Upon arrival to the stadium area, fans should follow thedirections of Glendale Police Officers and park in the first available lot.
It is recommended to purchase parking passes in advance at SeatGeek.com.
Parking at the stadium will cost $20 per vehicle
Please have parking pass pulled up on your phone or have your debit or credit card ready uponarrival to the lot
Pre-game tailgating is allowed in Sportsman's Park carparks and tailgating activities are only allowed beginning from when carparks open. Carpark opening times vary for events, check the event webpage on the stadium website for carpark open times. Purchase parking in advance at SeatGeek.com.
Please respect fellow fans by only occupying one parking stall. Tailgating should take place directly behind your vehicle or in adjacent landscape areas only. You may not block other stalls, walkways or any aisle ways with tents, trailers, chairs, coolers or barbeques. Saving other parking spaces is not allowed at any time. Fans who want to tailgate together must arrive together. Sportsman's Park carparks close one (1) hour after the event.
The NFL Clear Bag Policy will be enforced for all events at State Farm Stadium. State Farm Stadium strongly recommends fans to not bring any bags, however the following will be permitted: One clear bag no larger than 12" x 6" x 12" or a standard one (1) gallon freezer bag. Please review the complete bag policy by clicking here.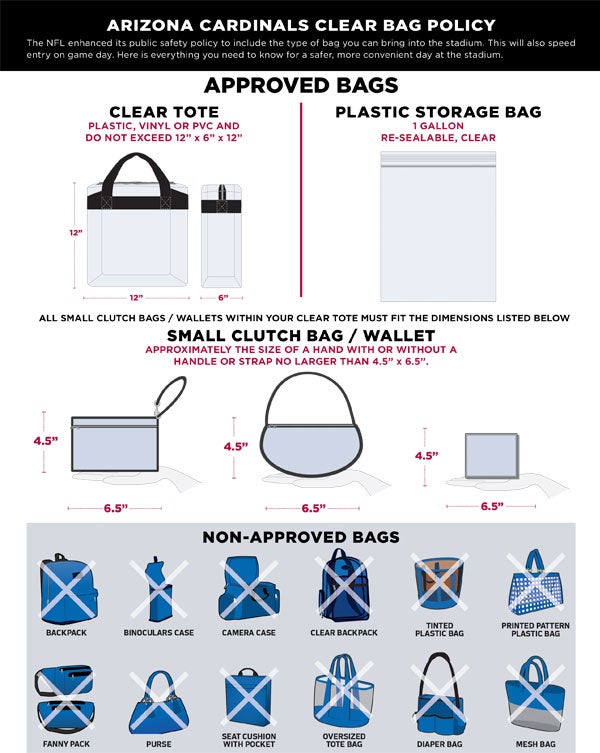 The following items are not permitted inside State Farm Stadium. There are no provisions to store items not allowed through security and items cannot be held by security staff members.
Aerosol Cans
Alcoholic Beverages
Animals (except for documented service animals)
Bags that do not meet NFL guidelines (must be clear and less than 12" x 12" x 6" in size)
Banners or signs larger than 3' x 2' or with a non-sport message
Beverages other than one (1) factory-sealed, non-frozen 500mL (16.9 fl. oz.) plain bottle of water (sport drinks and flavored water not permitted)
Beverage containers – glass bottles, cans and thermoses
Cameras with professional lenses (larger than 8 inches) and tripods/monopods
Chewing tobacco
E-cigarettes/Vaporizer Pens
Clothing deemed obscene or indecent in a public setting
Coolers of any kind
Fireworks
Food (except for children under the age of two years old)
Footballs and beach balls (inflated or deflated)
Illegal drugs
Laptop computers
Laser Pointers
Noise Makers of any kind (whistles, horns, bells, etc.)
Poles or Sticks of any kind, including "Selfie-Sticks" and brooms
Seat Cushions except those which are one piece and have no zippers, pockets or concealable areas
Golf carts, skateboards, rollerblades or hoverboards
Umbrellas larger than 12 inches in length
Unmanned aircraft systems (drones, etc.)
Video Cameras (single purpose)
Weapons of any kind including, but not limited to, firearms & knives
Any item deemed inappropriate or hazardous by stadium security
For more infomration on Prohibited Items, click here.
Metal detector screening and a search of all bags and other items being carried in will take place at stadium gates. There are no provisions available at the stadium to store or safeguard any prohibited bags. Guests will be asked to return prohibited items to their cars.
State Farm Stadium has transitioned to a cashless transaction stadium ensuring contactless options for food, beverage and merchandise purchases.
Cash will no longer be accepted at the stadium and ATMs have been removed from the premises. State Farm Stadium offers cash to card ATMs to convert cash to a universally accepted debit card.
In addition to traditional scan and chip options, all fixed points of sale will offer tap payment options including Apple, Google and Samsung pay.
Wheelchair assistance is available to guests upon entry into the stadium and is scheduled on a first-come, first-served basis. Requests for wheelchair assistance can be made by asking a stadium staff member or by visiting a Guest Services Office located near Sections 104, 123, 417 and 448.

The stadium will provide wheelchairs and a staff member to escort guests to their seats, but it is requested that mobility impaired patrons be accompanied by another adult in their party. Upon arrival at the seating location, guests are required to surrender wheelchairs to stadium staff.
All guests must agree that neither they will attend the Gold Cup if any one or more of the following is true on the day of:
Within the prior 14 days, they have tested positive for, or been exposed to someone who has tested positive for, COVID-19;
Within the prior 48 hours, they have experienced symptoms of COVID-19 (e.g., a fever of 100.4°F or higher, cough, shortness of breath or difficulty breathing, chills, repeated shaking, muscle pain/achiness, headache, sore throat, loss of taste or smell, nasal congestion, runny nose, vomiting, diarrhea, fatigue or any other symptoms associated with COVID-19 identified by the CDC);
Within the prior 14 days, they have traveled to any state or international territory identified by federal or applicable local governments as being subject to travel or quarantine advisories due to COVID-19.
Please note: According to the CDC, older adults and people of any age with serious underlying medical conditions may be at higher risk of death or severe illness from COVID-19. All guests should evaluate their risk in determining whether to attend.
You must follow all stadium policies, including health and safety policies, and posted instructions while in the stadium and on stadium grounds. An inherent risk of exposure to COVID-19 exists in any public place where people are present. COVID-19 is an extremely contagious disease that can lead to severe illness and death. According to the Centers For Disease Control and Prevention, senior citizens and those with underlying medical conditions are especially vulnerable. By entering the stadium and stadium grounds, you voluntarily assume all risks related to exposure to COVID-19.
State Farm Stadium is committed to creating a safe and respectful stadium environment and match-day experience that respects the rights of each and every guest. All fans are expected to abide by the standards of behavior in our Fan Code of Conduct.
The Fan Code of Conduct requires guests to refrain from the following:
Behavior that is unruly, disruptive, or illegal in nature.

Intoxication or other signs of alcohol or substance impairment that results in irresponsible behavior.

Smoking except in designated areas, using e-cigarettes or chewing tobacco.

Foul or abusive language or obscene behavior.

Interference with the progress of the game (including throwing of objects onto the field).

Failing to follow the instructions of law enforcement or stadium personnel.

Verbal or physical harassment of opposing team fans or other attendees.

Unreasonably obstructing the view of other patrons.

Offensive language or obscene gestures, to include the use of such language or gestures concerning a person's race, ethnicity, color, gender identify/expression or national origin; or to instigate, incite or encourage a confrontation or physical assault.

Failure to comply with stadium policies including policies requiring face coverings or to maintain physical distancing.
Violators of the Fan Code of Conduct will be ejected from the stadium.
Fans are encouraged to report violators of the Code of Conduct by texting the State Farm Stadium Guest Assistance Hotline at 623-400-2210.
Discriminatory Language Policy
IMPORTANT: Racist or Homophobic language from either individual fans or in group chants will not be tolerated at this event; Offenders will be subject to ejection.
Under FIFA's Three-Step Procedure, failure to observe this policy may result in fan ejections and other actions outlined below:
Stop the match (followed by a stadium announcement with the necessary explanation and request for the discriminatory incident to stop);
Suspend the match by sending the players back to the changing room for an appropriate period of time (followed by a stadium announcement with the necessary explanation and request for the discriminatory incident to stop);

Abandon the match

(followed by a stadium announcement with the necessary explanation and request to leave the stadium, in accordance with the instructions of the security personnel).