Concacaf Gold Cup Quarterfinals
Event Information
State Farm Stadium to host two Quarterfinal matches in the Knockout Stage of the Concacaf Gold Cup. For the first time in history, this year's edition of Gold Cup will feature each group's final group stage matches played simultaneously to ensure an even more compelling spectacle as the teams compete to reach the Knockout Stage.
Quaterfinals - Glendale, AZ
Quarterfinal Match #1: 1D vs 2A @ 4:30pm
Quarterfinal Match #2: 1A vs 2D @ 7:00pm
Enhancements to the 2021 Concacaf Gold Cup
For the 2021 Gold Cup, Concacaf introduced a series of football first enhancements to add more anticipation for fans and increase competition between the teams. This included a first-ever Gold Cup draw, which took place in September 2020, the introduction of a Prelims to qualify the final three teams into the group stage and a new format in the knockout stage which means teams on opposite sides of the bracket will meet from the quarterfinals onwards. The 2021 Gold Cup will also include the AFC Champion, Qatar, as a guest participant and it will be the first Gold Cup to use Video Assistant Referees (VAR).
Premium Seating Opportunities
Each Premium Space is designed to provide the highest level of quality through easy access to comfortable appointments and contemporary furniture inside the private space – the best way to watch any event! Every Premium Seat ticket offers access to multiple upgraded experiences including:
Exclusive access to Gila River Casinos Club Level amenities
Private Club entrances
Upscale and expanded food and beverage options
All-Inclusive Party Loft Tickets
Leave all the planning to us! Take in the action of Gold Cup in the stadium's Party Loft, located on Loft Level, and receive complementary food, sodas, beer and parking.

Minimum Purchase: 2 Tickets
Maximum Purchase: 124 Tickets
Field Boxes include prime mid-field location, upgraded stadium seating and a large flat-screen television
8 tickets per Field Box
18 person or 24 person
Private Lofts provide an intimate experience for up to 24 fans. Private restrooms, modern appointments, and a dedicated attendant create a perfect entertaining space.
6 Parking Passes
For more information or to purchase Premium Seating email [email protected] or call 623-433-7157.
Enhanced Health and Safety Protocol
First, and most importantly, the health and safety of all guests in State Farm Stadium is paramount.
Increasing sanitization of high touch point areas including door handles, hand rails, and elevator buttons
Installed hand sanitizer stations throughout the stadium
Implemented a cashless environment to decrease physical contact with guests
Requiring health screening for all employees
Added a Isolation Area for employees and guests who exhibit COVID-19 symptoms after entering the stadium
All guests must agree that neither they will attend the Gold Cup if any one or more of the following is true on the day of:
Within the prior 14 days, they have tested positive for, or been exposed to someone who has tested positive for, COVID-19;
Within the prior 48 hours, they have experienced symptoms of COVID-19 (e.g., a fever of 100.4°F or higher, cough, shortness of breath or difficulty breathing, chills, repeated shaking, muscle pain/achiness, headache, sore throat, loss of taste or smell, nasal congestion, runny nose, vomiting, diarrhea, fatigue or any other symptoms associated with COVID-19 identified by the CDC);
Within the prior 14 days, they have traveled to any state or international territory identified by federal or applicable local governments as being subject to travel or quarantine advisories due to COVID-19.
Please note: According to the CDC, older adults and people of any age with serious underlying medical conditions may be at higher risk of death or severe illness from COVID-19. All guests should evaluate their risk in determining whether to attend.
Frequently Asked Questions
Are face coverings required?
Yes. Face coverings are required for all in attendance with the exception of children under the age of 2 years.
Will face coverings be provided?
State Farm Stadium strongly encourages all attendees to bring their own face covering however disposable masks will be available for those who do not have appropriate face coverings.
What preventative steps is the stadium taking against COVID-19?
At State Farm Stadium, the health and safety of our guests and staff is our top priority.
Encouraging Social Distancing

Please observe 6' of distance between guests.
Please observe floor sticker in any areas where applicable.
Please sit only in assigned, ticketed seats.

Limiting the Number of Event Attendees

The stadium has implemented social distancing guidelines by designating assigned seating for the event and decreasing the number of event attendees.

Enhanced Cleaning & Sanitization

The stadium has implemented enhanced cleaning and sanitization processes throughout the stadium including in the seating bowl and stadium restrooms.

Personal Protective Equipment (PPE)

All stadium staff and event attendees will wear face coverings.
What additional precautions should guests take?
Check yourself for any signs or symptoms of COVID-19. Stay home if you are sick or showing any signs or symptoms.
Wash hands often with soap and water for at least 20 seconds. If soap and water are not available, use an alcohol-based hand sanitizer that contains at least 60% alcohol.
Avoid touching your eyes, nose, and mouth with unwashed hands.
Avoid close contact with people who are sick.
Cover your cough or sneeze with a tissue, then throw the tissue in the trash.
Individuals at higher risk for severe illness should consider not attending.
You must follow all stadium policies, including health and safety policies, and posted instructions while in the stadium and on stadium grounds. An inherent risk of exposure to COVID-19 exists in any public place where people are present. COVID-19 is an extremely contagious disease that can lead to severe illness and death. According to the Centers For Disease Control and Prevention, senior citizens and those with underlying medical conditions are especially vulnerable. By entering the stadium and stadium grounds, you voluntarily assume all risks related to exposure to COVID-19.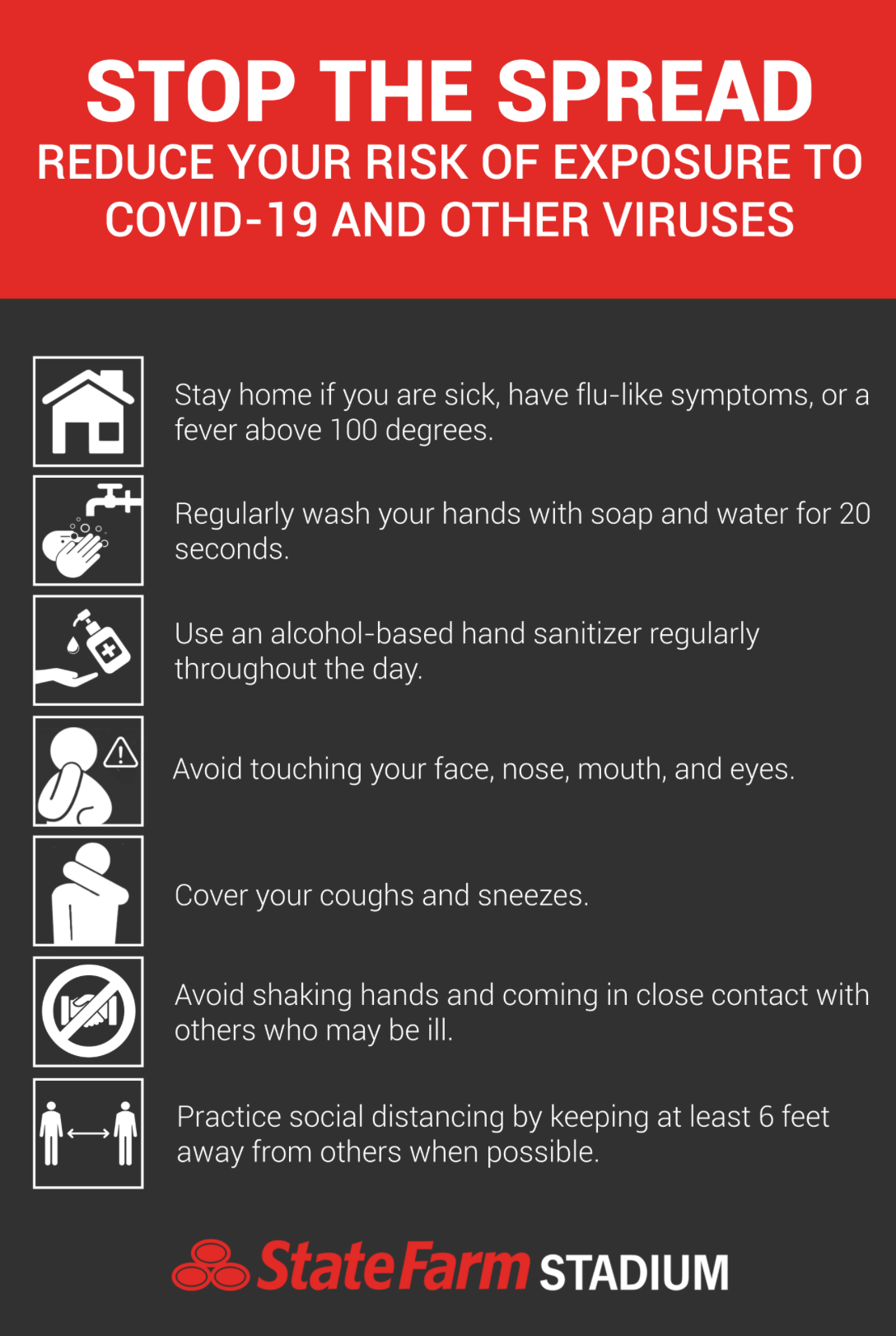 Fully vaccinated ticketholders & event attendees will not be required to wear masks or facial coverings while attending events at State Farm Stadium. Non-vaccinated individuals are strongly encouraged to continue to adhere to the face covering recommendations of the CDC and local health authorities. During events, all working personnel will continue to wear face coverings until further notice.
The policy applies to all persons 2 years of age or older.
It is recommended that face coverings:

Fully cover the nose and mouth and secure under the chin.
Fit snugly but comfortably against the sides of the face.