Maricopa County Home & Landscape Show
Event Information
Arizona's Best Home Show for 28 years is BACK! Shop the best deals in home décor, design, kitchen & bath remodeling, landscaping & more. All activities inside the Show are FREE with admission plus FREE parking. We are so excited to welcome you back!
Since the onset of COVID-19, State Farm Stadium has partnered with public health experts to create a safe and welcoming environment. New policies and procedures have been implemented to keep everyone safe – and we need your help to make it a success.
Show Hours: Friday, Saturday & Sunday 10am-5pm
Box Office Hours: 9am-4:30pm (credit cards only)
Admission: Adult: $5.00, 3-12 $2.00, 2 and under free.
Senior Morning: Friday 10am-12pm $2 admission for seniors 60+
Customer Appreciation: Friday 2pm-5pm, Sunday 2pm-5pm $2 admission
Military Appreciation: $2 admission with valid Military ID
March Birthdays: Visit the Info booth for a special gift with valid ID
Sign up for discount tickets at www.MCHomeShows.com
Arizona Department of Health Guidelines
Specific health and safety protocol and procedures occuring for Maricopa County Home & Landscape Show include:
Temperatures of all employees and vendors will be taken prior to admittance into the stadium
Masks are required at all times unless actively eating or drinking in a seat
Ticket sales will occur at the stadium Box Office

Everything is cashless, credit cards only
Per the Centers for Disease Control and Prevention guidance, under all circumstances, the following precautions must be taken:
Stay home if you are sick.
Protect yourself at the event:

Stay at least 6 feet from other attendees.
Do not touch your eyes, nose, and mouth.
After the event, use hand sanitizer. When you return home, wash your hands with soap and water for at least 20 seconds.
Wear a cloth or disposable face covering over your nose and mouth.
Wash hands after returning home after the event.
Frequently Asked Questions
Are face coverings required?
Yes. Face coverings are required for all in attendance with the exception of children under the age of 2 years.
Will face coverings be provided?
State Farm Stadium strongly encourages all attendees to bring their own face covering however disposable masks will be available for those who do not have appropriate face coverings.
What preventative steps is the stadium taking against COVID-19?
At State Farm Stadium, the health and safety of our guests and staff is our top priority.
Encouraging Social Distancing

Please observe 6' of distance between guests.
Please observe floor sticker in any areas where applicable.
Please sit only in assigned, ticketed seats.

Enhanced Cleaning & Sanitization

The stadium has implemented enhanced cleaning and sanitization processes throughout the stadium including in the seating bowl and stadium restrooms.

Personal Protective Equipment (PPE)

All stadium staff and event attendees will wear face coverings.
What additional precautions should guests take?
Check yourself for any signs or symptoms of COVID-19. Stay home if you are sick or showing any signs or symptoms.
Wash hands often with soap and water for at least 20 seconds. If soap and water are not available, use an alcohol-based hand sanitizer that contains at least 60% alcohol.
Avoid touching your eyes, nose, and mouth with unwashed hands.
Avoid close contact with people who are sick.
Cover your cough or sneeze with a tissue, then throw the tissue in the trash.
Individuals at higher risk for severe illness should consider not attending.
FREE Landscape Consultation & Take-Home Drawing: Create your own relaxing outdoor living space and backyard escape with the professionals at Horticultural Frontiers. Be sure to bring your backyard measurements and pictures. A $350 value.
"Piece of Cake" Glass Plate Etching:

Baking & decorating a cake is the hard part, but what about after the frosting & sprinkles?

Take your cake to the next level with Dana of Drink Creatively of Phoenix to learn how to etch your own chic design on a glass plate to show off your delicious masterpiece.

No experience needed.

Lavender Lemongrass Bath Bomb Making & Lemongrass Scrub: In need of that at-home spa experience? Join Trish from Carefree Bath & Body to make your own calming & uplifting lavender lemongrass bath bombs to add luxury to your bath time plus refreshing lemongrass scrub to leave your skin feeling energized & smooth.
"Always Be Positive" Wood Sign Painting: Start the day with this adorable wood sign as a daily reminder to begin each morning with happy thoughts. Positive thoughts = positive results. Join Dana of Drink Creatively Phoenix to learn how to create your own vintage style sign with paint, stencils, color blending your cacti & whimsical lettering.
Succulent Terrarium Planting Party: Dig in with our garden designer Jessica from Stellar Creations for a fun planting party. She will teach you how to create your own adorable rustic whiskey barrel terrarium using live succulents, colored moss & decorative rocks.
"Baked With Love" Glass Plate Etching: Add the finishing touch to your baked goodies with a personalized "Baked With Love" glass plate. Join Dana of Drink Creatively of Phoenix to learn how to etch glass & create a beautiful display for your treats

.

Your family & friends will be impressed with more than your baking ability.

No experience needed.

"Hello Gorgeous" Wood Sign Painting: Who wouldn't love a little daily reminder that you are gorgeous? Take a seat with Dana of Drink Creatively Phoenix and learn how to create your own inspirational wood sign through weathering techniques, cursive stenciling, painting & color blending.
"Bring on Spring" Wood Sign Painting: Welcome the blooming of spring & season of new beginnings with this cute farmhouse style sign. Learn how to stencil, paint & blend for varying shades of colors cheerful lettering and a saguaro cactus with Dana of Drink Creatively Phoenix.
How to Install Your Own Tile Backsplash: One of the easiest ways you can upgrade an outdated, tired kitchen or bath is to add a tile backsplash. Learn how to select materials, layout considerations, trim pieces & transitions, prep for installation plus setting materials from remodeling professional Eric of DEA Kitchen & Bath.
"Love Arizona" Wine Bottle Glass Etching: After that last sip of red or white, now what? In the spirit of repurposing, learn how to etch your own wine bottle with the cutest AZ design with Dana of Drink Creatively of Phoenix. Use as a tapered candleholder, oil or dressing dispenser, vase or add lights for a bit of twinkle. No experience needed.
DIY Shower Remodel Crash Course: Join Custom Creative Remodeling's tile expert for the start-to-finish steps to tackle your shower remodel. Learn about products, installation methods & most importantly, waterproofing when installing your new shower.
Clever Ways to Add More Storage Throughout Your Home: Discover the latest in storage solutions & how to create more space with DEA Kitchen & Bath. Eric will share the many options to maximize function & design for your garage, laundry room, pantry, under the stairs space & more.
Honey Sampling & Beeswax Candle Making: Buzz on over to the "AZ Queen Bee" booth to sample her honey collection featuring local favorites such as desert bloom, orange blossom honey along with tasty creamed & infused lemon, strawberry, chocolate, & blueberry honeys. While there, roll your own candle, shop her adorable totes, honey sticks, kitchen towels, honey jars, soap, reusable beeswax wraps and more!
Dog Tricks & Obedience Training Demo's: View fun tricks & amazing demonstrations of basic to advanced obedience training from the skilled professionals at Dog Training Elite.
Physical Distancing: Please leave one space between your vehicle and the next vehicle. Social distancing should be maintained when entering the stadium from parking lots. Follow the direction of signage and stadium staff members.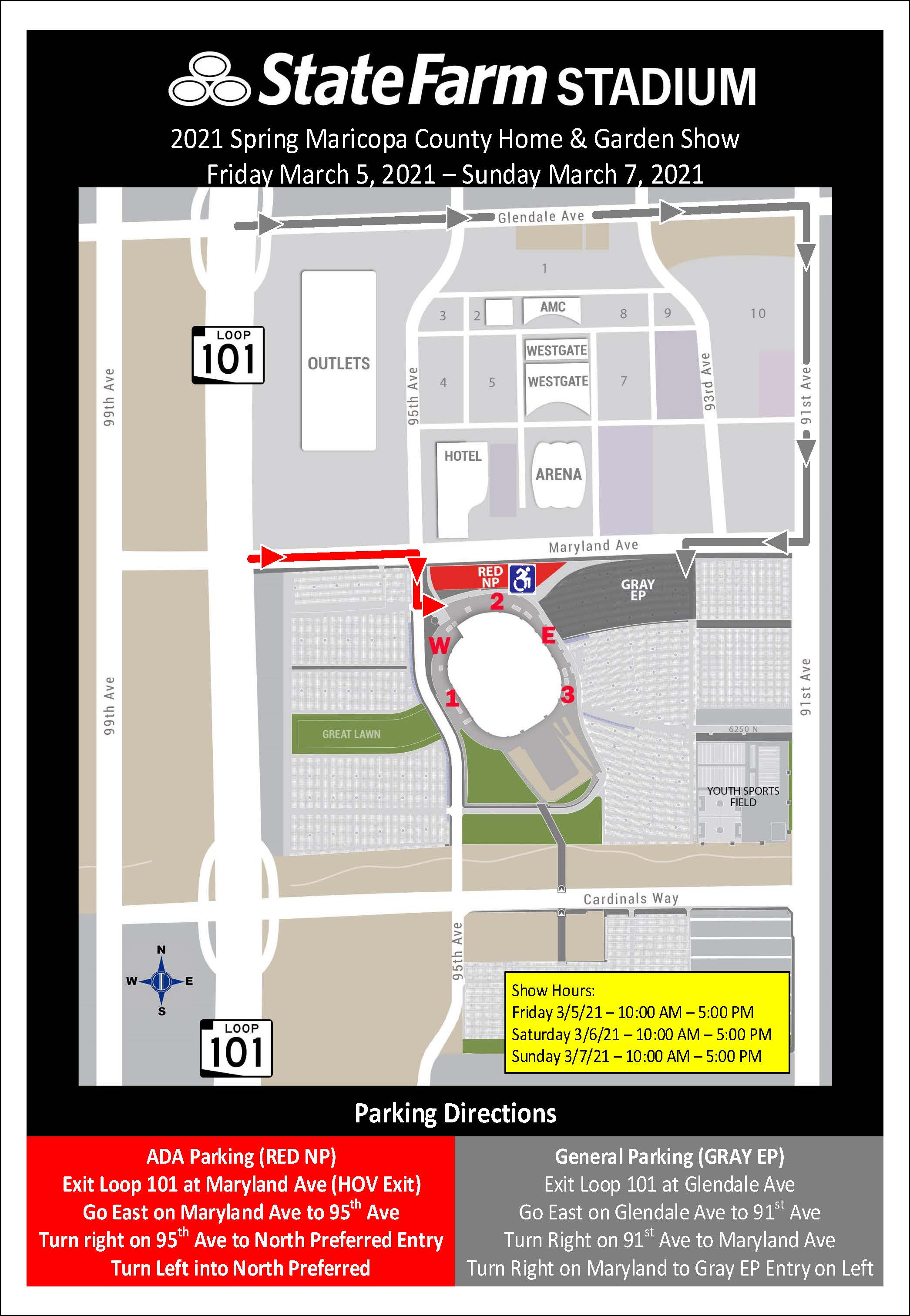 Prevent the Spread of COVID-19