Lions v. Cardinals
Event Information
State Farm Stadium is excited to host the Detroit Lions as they face the Arizona Cardinals on Sunday, September 27 at 1:25PM.
ARIZONA DEPARTMENT OF HEALTH GUIDELINES
Per the Centers for Disease Control and Prevention guidance, under all circumstances, the following precautions must be taken:
Stay home if you are sick.
Protect yourself at the event:

Stay at least 6 feet from other attendees.
Do not touch your eyes, nose, and mouth.
After the event, use hand sanitizer. When you return home, wash your hands with soap and water for at least 20 seconds.
Wear a cloth or disposable face covering over your nose and mouth.
STOP THE SPREAD OF COVID-19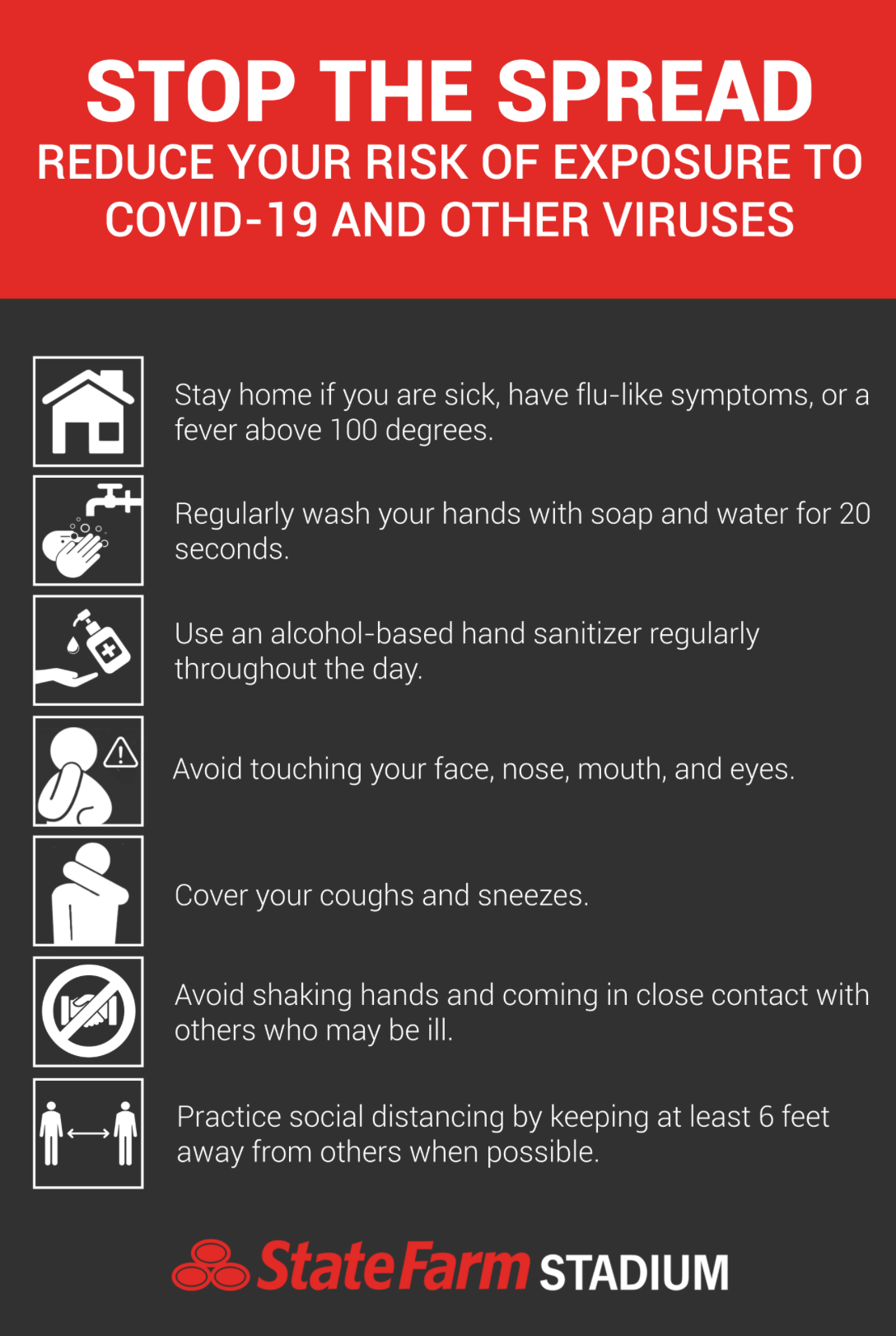 FREQUENTLY ASKED QUESTIONS
What additional steps is State Farm Stadium taking in response to COVID-19?
State Farm Stadium continues to closely monitor latest developments regarding COVID-19. Learn more here.
Are face coverings required?
Yes. Face coverings are required for all in attendance with the exception of children under the age of 2 years.
Will face coverings be provided?
State Farm Stadium strongly encourages all attendees to bring their own face covering however disposable masks will be available for those who do not have appropriate face coverings.
What preventative steps is the stadium taking against COVID-19?
At State Farm Stadium, the health and safety of our guests and staff is our top priority.
Encouraging Social Distancing

Please observe 6' of distance between guests.
Please observe floor sticker in any areas where applicable.
Please sit only in assigned, ticketed seats.

Limiting the Number of Event Attendees

The stadium has implemented social distancing guidelines by designating assigned seating for the event and decreasing the number of event attendees.

Enhanced Cleaning & Sanitization

The stadium has implemented enhanced cleaning and sanitization processes throughout the stadium including in the seating bowl and stadium restrooms.

Personal Protective Equipment (PPE)

All stadium staff and event attendees will wear face coverings.
What additional precautions should guests take?
Check yourself for any signs or symptoms of COVID-19. Stay home if you are sick or showing any signs or symptoms.
Wash hands often with soap and water for at least 20 seconds. If soap and water are not available, use an alcohol-based hand sanitizer that contains at least 60% alcohol.
Avoid touching your eyes, nose, and mouth with unwashed hands.
Avoid close contact with people who are sick.
Cover your cough or sneeze with a tissue, then throw the tissue in the trash.
Individuals at higher risk for severe illness should consider not attending.