Metallica
Event Information
NIGHT TWO IN GLENDALE IS RESCHEDULED TO SETPEMBER 9!
Metallica says, "We're very sorry to report that [Sunday's] scheduled M72 date at State Farm Stadium has been postponed to Saturday, September 9, as, unfortunately, COVID has caught up with James. We're extremely disspaointed and regret any inconveinence this has caused you; we look forward to returning to returning to complete the M72 No Repeat Weekend in Glendale..."
Metallica is back and heading out on their M72 World Tour, TWO NIGHTS, TWO DIFFERENT SETS, NO REPEAT WEEKEND!
NIGHT 1 with Pantera & MammothWVH on September 1, NIGHT 2 with Five Finger Death Punch & Ice Nine Kills on September 3!
Parking Lots: 3:00PM
Main Gates / All Doors: 4PM
Show Begins: 6PM
It is recommended that fans purchase parking in advance through SeatGeek.com. Fans without pre-paid parking should arrive to any State Farm Stadium carpark and pay with credit or debit card ready. Cash is not accepted.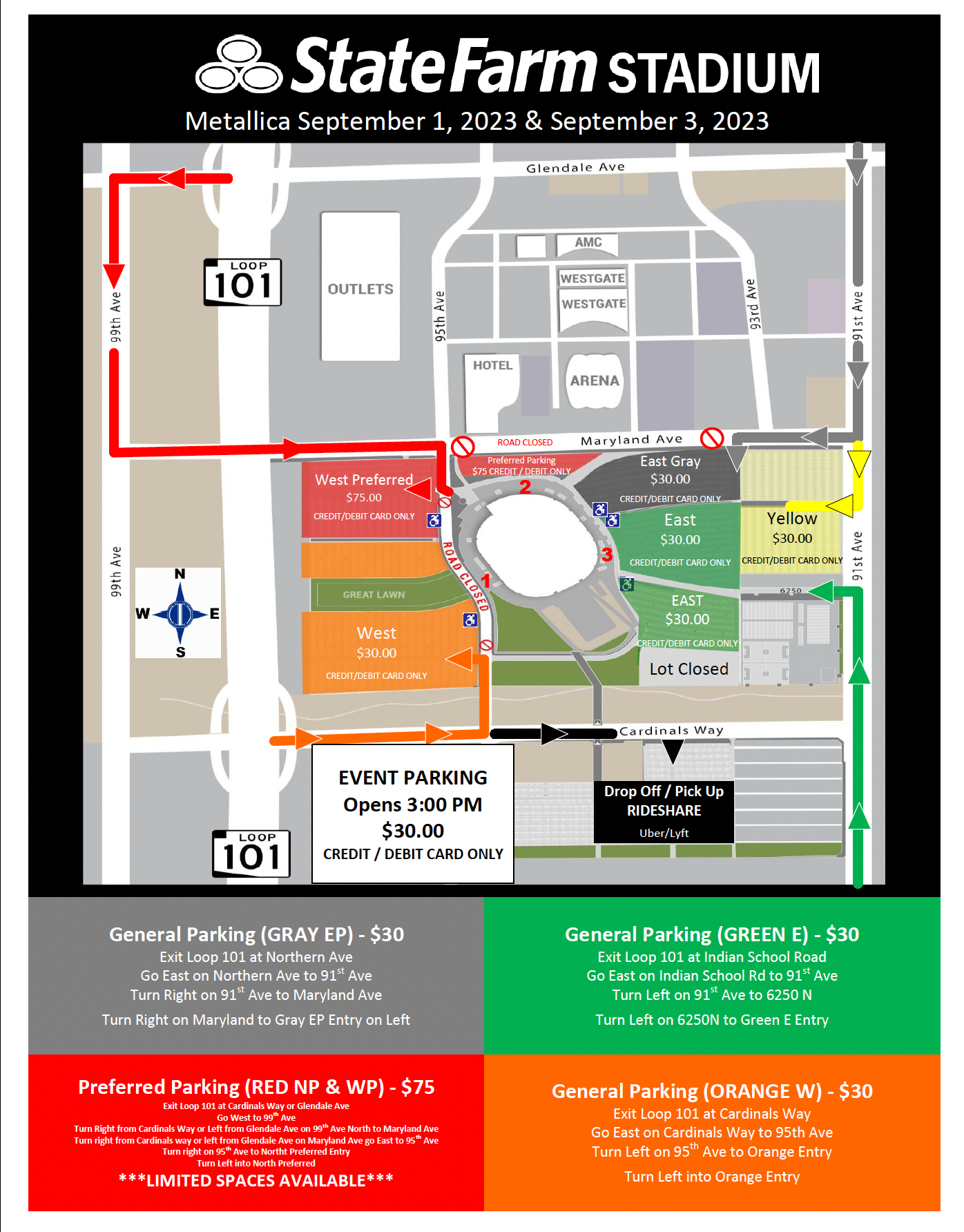 Elevate your event experience with Premium Seating at State Farm Stadium. Multiple Premium Seating opportunities throughout the stadium provide the perfect upscale setting for business colleagues, family, and friends.
The Clear Bag Policy is enforced for all events at State Farm Stadium. State Farm Stadium strongly recommend fans to not bring any bags, however the following will be permitted: One clear bag no larger than 12" x 6" x 12" or a standard one (1) gallon freezer bag. Please review the complete bag policy by clicking here.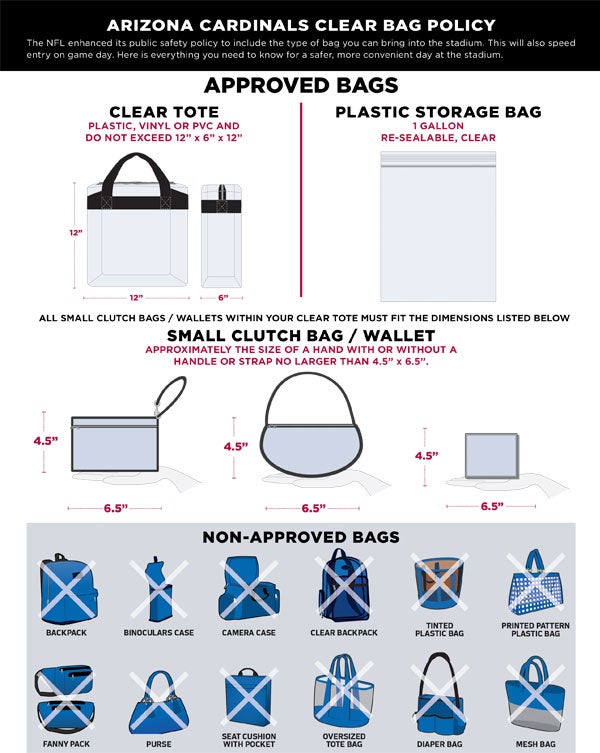 Metal detector screening and a search of all bags and other items being carried in will take place at stadium gates. There are no provisions available at the stadium to store or safeguard any prohibited bags. Guests will be asked to return prohibited items to their cars.
The following items are not permitted inside State Farm Stadium. There are no provisions to store items not allowed through security and items cannot be held by security staff members.
Aerosol Cans
Alcoholic Beverages
Animals (except for documented service animals)
Bags that do not meet NFL guidelines (must be clear and less than 12" x 12" x 6" in size)
Banners or signs larger than 3' x 2' or with a non-sport message
Beverages other than one (1) factory-sealed, non-frozen 500mL (16.9 fl. oz.) plain bottle of water (sport drinks and flavored water not permitted)
Beverage containers – glass bottles, cans and thermoses
Cameras with professional lenses (larger than 8 inches) and tripods/monopods
Chewing tobacco
E-cigarettes/Vaporizer Pens
Clothing deemed obscene or indecent in a public setting
Coolers of any kind
Fireworks
Food (except for children under the age of two years old)
Footballs and beach balls (inflated or deflated)
Illegal drugs
Laptop computers
Laser Pointers
Noise Makers of any kind (whistles, horns, bells, etc.)
Poles or Sticks of any kind, including "Selfie-Sticks" and brooms
Seat Cushions except those which are one piece and have no zippers, pockets or concealable areas
Golf carts, skateboards, rollerblades or hoverboards
Umbrellas larger than 12 inches in length
Unmanned aircraft systems (drones, etc.)
Video Cameras (single purpose)
Weapons of any kind including, but not limited to, firearms & knives
Any item deemed inappropriate or hazardous by stadium security
For more infomration on Prohibited Items, click here.
Please note professional cameras are NOT permitted in the venue.
While cell phones and small personal cameras are allowed, cameras with a detachable lens, iPads, GoPros, and video cameras are strictly prohibited.
Wheelchair assistance is available to guests upon entry into the stadium and is scheduled on a first-come, first-served basis. Requests for wheelchair assistance can be made by asking a stadium staff member or by visiting a Guest Services Office located near Sections 104, 123, 417 and 448.

The stadium will provide wheelchairs and a staff member to escort guests to their seats, but it is requested that mobility impaired patrons be accompanied by another adult in their party. Upon arrival at the seating location, guests are required to surrender wheelchairs to stadium staff.
Can I sell or transfer just one of my two-day tickets?
No, you may only transfer both tickets to both shows; it is impossible to transfer a single-day ticket if you have purchased a two-day ticket. Please note that transfer may not be available in some countries until a later date. As a reminder, Enhanced Experiences and I Disappear Tickets will not be transferable. Contact your point of purchase for more information.

I bought a two-day ticket but changed my mind and only want to go for one day. What are my options?
If you bought a two-day ticket, you may opt to transfer your ticket, but please note that your ticket may only be transferred as a two-day ticket. Selling/transferring one ticket by itself will void the other as they are tied together.
Stay up-to-date with State Farm Stadium events, news and exclusive presale opportunities by joining the First In Line email.