Monster Energy AMA Supercross
Event Information
Monster Energy AMA Supercross Championship is the world's most competitive and highest-profile off-road motorcycle racing series. Elite riders race handlebar-to-handlebar over 17 rounds on custom-designed tracks inside the most prestigious stadiums across the country. The 450SX Class features the sport's best motocross riders and the 250SX Class showcases the next generation of champions. In 2022, three former 450SX Supercross Champions will be vying for another title – Jason Anderson, Cooper Webb, and Eli Tomac, while the rest of the field chases their first championship.
Additional Ticket Information
Leave all the planning to us! Take in the action of Supercross in the Party Loft, located on Loft Level, and receive complemtary food, sodas, beer and parking.
Party Loft: https://sfstadium.com/party-loft
Menu:

freshly popped popcorn, homemade kettle chips with caramelized onion dip, original sliders, vegan papas tacos, veg crudites, Caesar salad, all beef hotdogs, bratwurst, chicken tenders, pepperoni pizza, cheese pizza, gourmet cookies, salted caramel brownies, fountain soda, bottled water, Bud Light and Stella Artois

Minimum Purchase: 2 Tickets
For more information and pricing, email premiumseats@statefarmstadium.com or call 623-433-7157.
Round 5 - State Farm Stadium | Glendale, AZ
East Parking Lots Open - 12:00PM
Gates 2 & 3 Open - 12:30PM
Qualifying Rounds Start - 12:50PM
FanFest Opens - 1:00PM
Opening Ceremonies - 7:30PM
Gate Drop - 8:00PM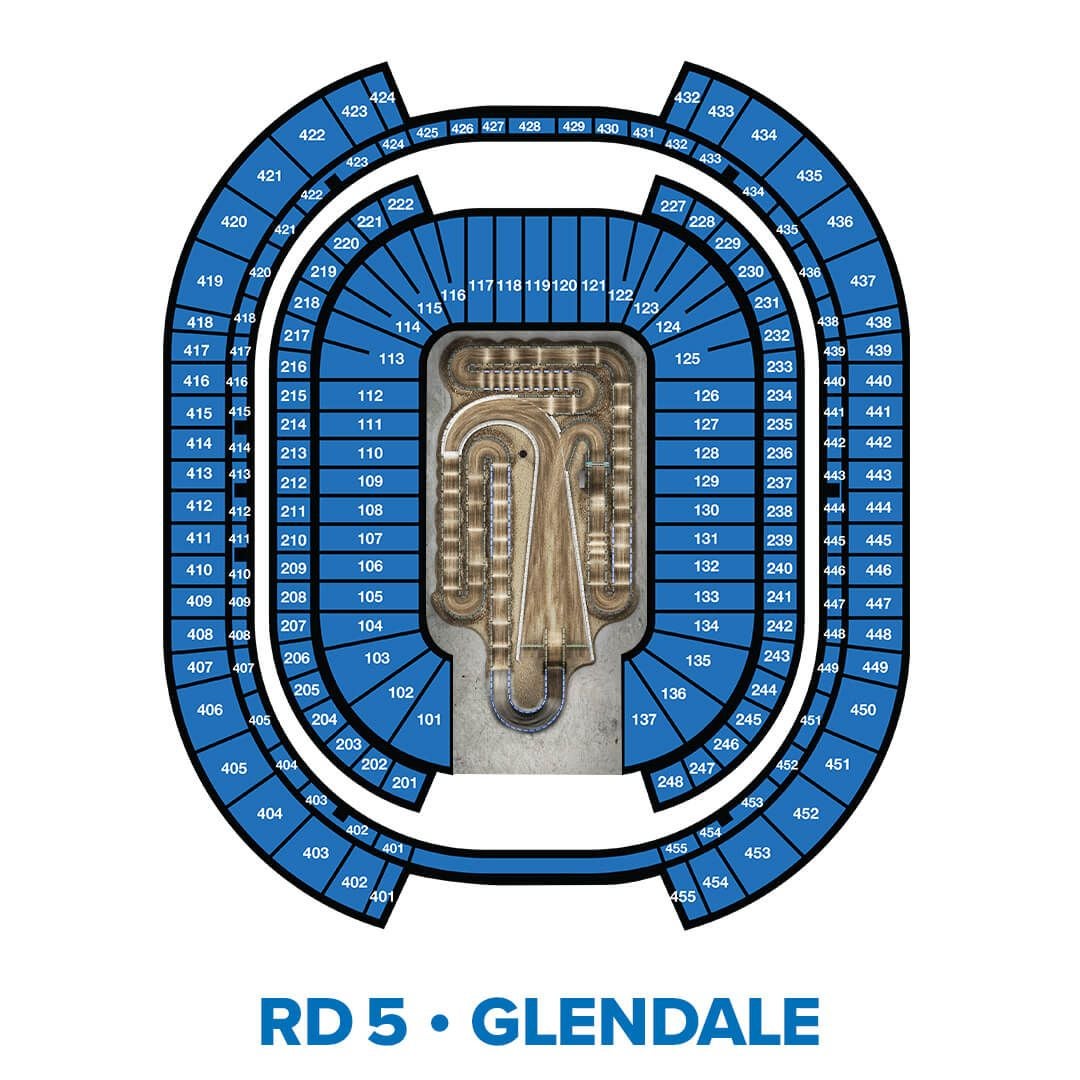 At the Supercross FanFest, get an insider's look as the teams prepare, practice and qualify for the Main Event. You can also take photos, visit sponsor displays, take home pre-signed autograph cards and purchase your favorite gear. It's part of the Supercross experience that you do not want to miss. FanFest will open at 1:00PM
Purchase parking in advance or arrive to the lot with credit or debit card ready. Cash is not accepted. Parking at the stadium is $25 per vehicle.
Enhanced Health and Safety Protocols
First, and most importantly, the health and safety of all guests in State Farm Stadium is paramount.
Guidelines include:
Increasing sanitization of high touch point areas including door handles, hand rails, and elevator buttons
Installed hand sanitizer stations throughout the stadium
Implemented a cashless environment to decrease physical contact with fans
Added a Isolation Area for employees and fans who exhibit COVID-19 symptoms after entering the stadium
Feld Entertainment Fan Health Promise
As the pandemic recovery progresses, Feld Entertainment is continuing to closely monitor changes to government mandates, public health guidelines and industry standards. Each city's pandemic response is unique to the circumstances in the particular state and local community, so we are working closely with our venue partners to adjust our COVID-19 related protocols based on state and local requirements. Seating capacities will be determined on a case-by-case basis, and we are scheduling full capacity performances where permissible. Face coverings are strongly encouraged and may be required per state, city and venue policies. The CDC recommends face coverings if you are not fully vaccinated and for everyone in public indoor settings in areas of substantial or high transmission. As a valued patron of Feld Entertainment, the safety of you, our guests, and of all of the participants and personnel involved in Supercross is our top priority. We will continue to update all event pages with up-to-date information on our Fan Wellness policies.
You must follow all stadium policies, including health and safety policies, and posted instructions while in the stadium and on stadium grounds. An inherent risk of exposure to COVID-19 exists in any public place where people are present. COVID-19 is an extremely contagious disease that can lead to severe illness and death. According to the Centers For Disease Control and Prevention, senior citizens and those with underlying medical conditions are especially vulnerable. By entering the stadium and stadium grounds, you voluntarily assume all risks related to exposure to COVID-19.
The CDC recommends that all individuals, regardless of vaccination status, wear face masks while indoors.
The policy applies to all persons 2 years of age or older.
It is recommended that face coverings:

Fully cover the nose and mouth and secure under the chin.
Fit snugly but comfortably against the sides of the face.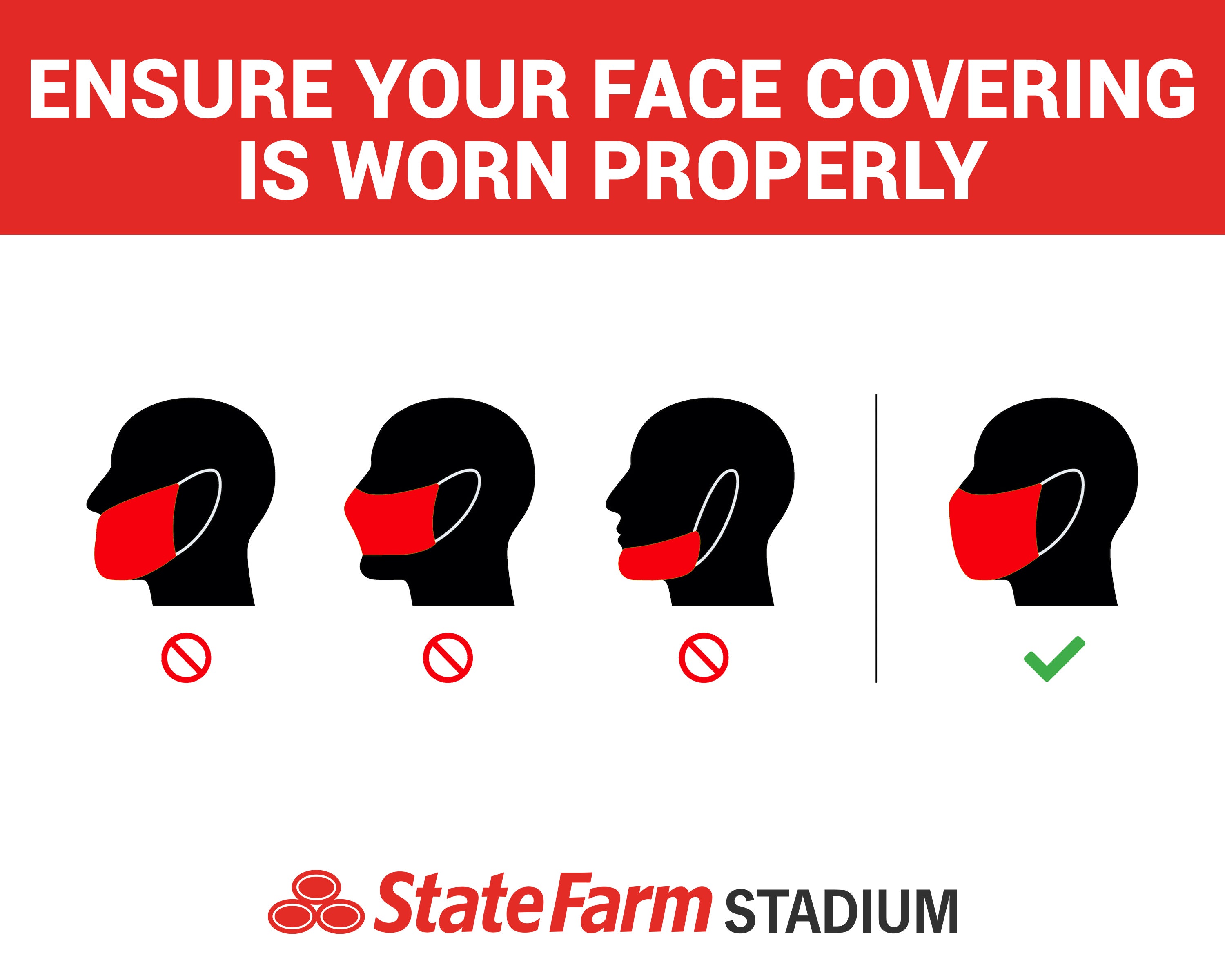 The NFL Clear Bag Policy will be enforced for all events at State Farm Stadium. State Farm Stadium strongly recommends fans to not bring any bags, however the following will be permitted: One clear bag no larger than 12" x 6" x 12" or a standard one (1) gallon freezer bag. Please review the complete bag policy by clicking here.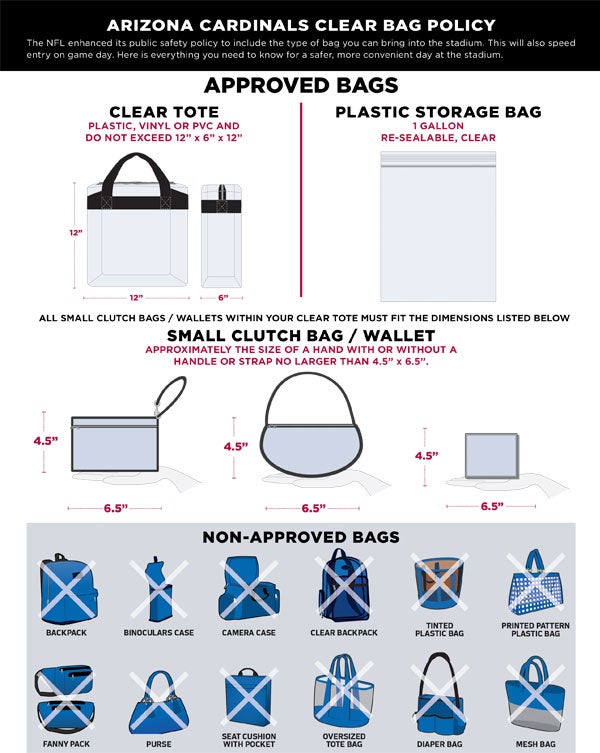 Metal detector screening and a search of all bags and other items being carried in will take place at stadium gates. There are no provisions available at the stadium to store or safeguard any prohibited bags. Guests will be asked to return prohibited items to their cars.
The following items are not permitted inside State Farm Stadium. There are no provisions to store items not allowed through security and items cannot be held by security staff members.
Aerosol Cans
Alcoholic Beverages
Animals (except for documented service animals)
Bags that do not meet NFL guidelines (must be clear and less than 12" x 12" x 6" in size)
Banners or signs larger than 3' x 2' or with a non-sport message
Beverages other than one (1) factory-sealed, non-frozen 500mL (16.9 fl. oz.) plain bottle of water (sport drinks and flavored water not permitted)
Beverage containers – glass bottles, cans and thermoses
Cameras with professional lenses (larger than 8 inches) and tripods/monopods
Chewing tobacco
E-cigarettes/Vaporizer Pens
Clothing deemed obscene or indecent in a public setting
Coolers of any kind
Fireworks
Food (except for children under the age of two years old)
Footballs and beach balls (inflated or deflated)
Illegal drugs
Laptop computers
Laser Pointers
Noise Makers of any kind (whistles, horns, bells, etc.)
Poles or Sticks of any kind, including "Selfie-Sticks" and brooms
Seat Cushions except those which are one piece and have no zippers, pockets or concealable areas
Golf carts, skateboards, rollerblades or hoverboards
Umbrellas larger than 12 inches in length
Unmanned aircraft systems (drones, etc.)
Video Cameras (single purpose)
Weapons of any kind including, but not limited to, firearms & knives
Any item deemed inappropriate or hazardous by stadium security
For more information on Prohibited Items, click here.
Wheelchair assistance is available to guests upon entry into the stadium and is scheduled on a first-come, first-served basis. Requests for wheelchair assistance can be made by asking a stadium staff member or by visiting a Guest Services Office located near Sections 104, 123, 417 and 448.

The stadium will provide wheelchairs and a staff member to escort guests to their seats, but it is requested that mobility impaired patrons be accompanied by another adult in their party. Upon arrival at the seating location, guests are required to surrender wheelchairs to stadium staff.
State Farm Stadium is committed to creating a safe, comfortable and enjoyable experience for all fans at State Farm Stadium, Sportsman's Park and throughout our parking areas. Our staff will promptly intervene to support an environment free from unruly or disruptive behavior including the following:
Behavior that is unruly, disruptive, or illegal in nature.
Intoxication or other signs of alcohol or substance impairment that results in irresponsible behavior.