Ravens vs. Cardinals
Event Information
The 8th all-time meeting between the two teams also marks the Ravens second ever regular season visit to State Farm Stadium. The Cardinals earned a 26-18 win on MNF in the Ravens only other visit (2015). WR Marquise Brown – drafted #25 overall by Ravens in 2019 – will face his former team for the first time.
Have your phone out with your parking pass located on your Cardinals Mobile App ready to be scanned upon arrival to the lots. On Cardinals game days, parking in Sportsman's Park is available to both ticket holders with pre-sold permits and single game parking. Single game parking, payable by credit or debit card only, is located in Black Lot, south of the stadium. Sportsman's Park carparks open four (4) hours prior to kickoff for both vehicles and guests.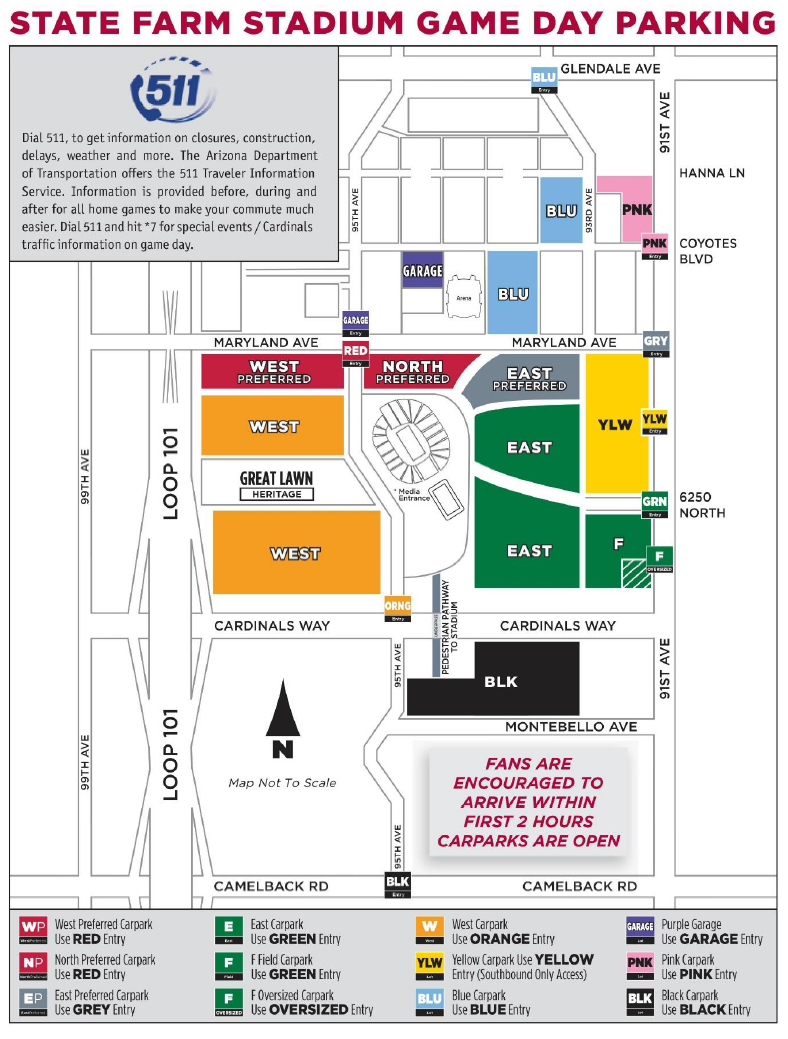 The NFL Clear Bag Policy will be enforced for all Arizona Cardinals games. State Farm Stadium strongly recommend fans to not bring any bags, however the following will be permitted: One clear bag no larger than 12" x 6" x 12" or a standard one (1) gallon freezer bag. Please review the complete bag policy by clicking here.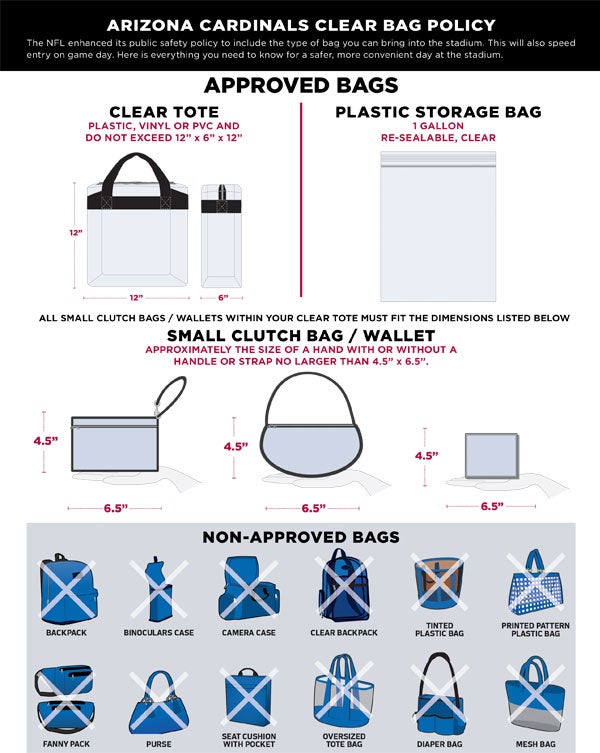 Metal detector screening and a search of all bags and other items being carried in will take place at stadium gates. There are no provisions available at the stadium to store or safeguard any prohibited bags. Guests will be asked to return prohibited items to their cars.
The following items are not permitted inside State Farm Stadium. There are no provisions to store items not allowed through security and items cannot be held by security staff members.
Aerosol Cans
Alcoholic Beverages
Animals (except for documented service animals)
Bags that do not meet NFL guidelines (must be clear and less than 12" x 12" x 6" in size)
Banners or signs larger than 3' x 2' or with a non-sport message
Beverages other than one (1) factory-sealed, non-frozen 500mL (16.9 fl. oz.) plain bottle of water (sport drinks and flavored water not permitted)
Beverage containers – glass bottles, cans and thermoses
Cameras with professional lenses (larger than 8 inches) and tripods/monopods
Chewing tobacco
E-cigarettes/Vaporizer Pens
Clothing deemed obscene or indecent in a public setting
Coolers of any kind
Fireworks
Food (except for children under the age of two years old)
Footballs and beach balls (inflated or deflated)
Illegal drugs
Laptop computers
Laser Pointers
Noise Makers of any kind (whistles, horns, bells, etc.)
Poles or Sticks of any kind, including "Selfie-Sticks" and brooms
Seat Cushions except those which are one piece and have no zippers, pockets or concealable areas
Golf carts, skateboards, rollerblades or hoverboards
Umbrellas larger than 12 inches in length
Unmanned aircraft systems (drones, etc.)
Video Cameras (single purpose)
Weapons of any kind including, but not limited to, firearms & knives
Any item deemed inappropriate or hazardous by stadium security
For more infomration on Prohibited Items, click here.
If you require assistance during game day or wish to report a Code of Conduct violation, stadium staff can be reached at:
Game Day Hotline: 623-433-7156
Game Day Text Message Hotline: Text your concern and location to 623-400-2210
Wheelchair assistance is available to guests upon entry into the stadium and is scheduled on a first-come, first-served basis. Requests for wheelchair assistance can be made by asking a stadium staff member or by visiting a Guest Services Office located near Sections 104, 123, 417 and 448.

The stadium will provide wheelchairs and a staff member to escort guests to their seats, but it is requested that mobility impaired patrons be accompanied by another adult in their party. Upon arrival at the seating location, guests are required to surrender wheelchairs to stadium staff.
The Arizona Cardinals Team Shop at State Farm Stadium will be open on gameday only to Cardinals Season Ticket Members. Access can only occur from the interior of the stadium.
The Arizona Cardinals and State Farm Stadium are committed to creating a safe, comfortable and enjoyable experience for all fans at State Farm Stadium, Sportsman's Park and throughout our parking areas. Our staff will promptly intervene to support an environment free from unruly or disruptive behavior including the following:
Failure to comply with stadium policies, including any existing health and safety protocols, or those that may be implemented by the CDC, state/local officials or NFL during the season.
Behavior that is unruly, disruptive, or illegal in nature.
Intoxication or other signs of alcohol or substance impairment that results in irresponsible behavior.
See the comprehensive Code of Conduct on AZCardinals.net.