Corporate Events
Host your annual meeting, corporate dinner, client reception and corporate events in the most unique venue in Glendale, Arizona.
Whether searching for a perfect backdrop for client events or looking to invite the whole team for an annual meeting, State Farm Stadium knows a thing or two about attracting a crowd! Flexible space for 20 to 20,000+ is easily accommodated in a variety of special event venues.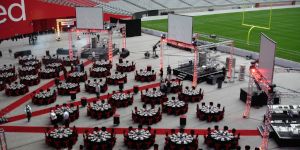 Begin the process of hosting your event at the most iconic venue in the Southwest.
More

Info