At State Farm Stadium, we are dedicated to ensuring that all of our guests have an exceptional experience, including those with disabilities. Our stadium is fully accessible, and our team is committed to working with fans to provide reasonable accommodation for events. If you have any inquiries or require assistance before your visit, please reach out to our Guest Experience department at guestservices@statefarmstadium.com. During events, our staff members will be available at all Guest Services locations to assist guests as needed.
All Sportsman's Park carparks have designated ADA parking areas. A valid state-issued hangtag or license plate is required to park in the designated ADA parking area. 
Upon arrival to any Sportsman's Park lot, alert the parking attendant you require ADA parking and you will be directed to the closest available space.  
Guests requiring ADA seating may purchase an ADA seat along with up to a total of three (3) companion seats in the same row and contiguous with the ADA seat. Please contact the Box Office should you have any questions or require any assistance. Please be aware that all tickets are subject to availability and seating limits per event. 
Courtesy cart service is available for mobility impaired fans and one guest from designated ADA Parking areas in all stadium lots to the stadium plaza security checkpoints. The carts will only take fans to the closest entrance as there is no cart service available inside State Farm Stadium.
For Arizona Cardinals games, the cart service is three hours prior to kickoff and one hour post-game. For major stadium events, the cart service is available two hours prior to an event until one hour following the conclusion of the event.
Post-event, fans should wait at the ADA Shuttle Tents adjacent to where they were dropped off by the Accessible Cart to obtain a ride back to their vehicle within Sportsman's Park. Accessible Carts DO NOT give rides to parking lots outside of State Farm Stadium campus.
Please contact Guest Services at 623-433-7015 or guestservices@statefarmstadium.com for event specific information.
Guests requiring interpreting services are asked to contact Guest Services, 623-433-7015 or guestservices@statefarmstadium.com, no later than thirty days prior to the event. We will do our best to meet our guests' requests, but we cannot guarantee the service. 
For Arizona Cardinals games, an open captioning service is available for the stadium public address system. Open captioning is displayed below the stadium's north and south video boards. In addition, open captioning is available through Smartphone Caption cards linked to personal devices and can be requested at any Guest Services location. 
For more information in advance of a Cardinals game day, please contact the Cardinals Ticket Office at (602) 379-0102 or by email at askquestions@cardinals.nfl.net.  
Restrooms and Privacy Rooms
There are 50 restrooms located throughout State Farm Stadium. All men, women and family restrooms are ADA accessible and equipped with a baby-changing table. 
Family Restrooms are located throughout the stadium:
Main Level at Section 114 and 136
Club Level at Section 204,219,230, and 247
Terrace Level at Sections 404, 321, 435, and 454
Privacy/Nursing Rooms are located on the Club Level in the elevator atrium at Section 2.
State Farm Stadium ADA Seating Areas are designed to provide accessible seating areas for individuals with disabilities and their companion(s). For publicly ticketed events, ADA tickets, labeled WC followed by the section number (WC102), can be purchased from SeatGeek.com by clicking the "Accessible" toggle and are subject to availability.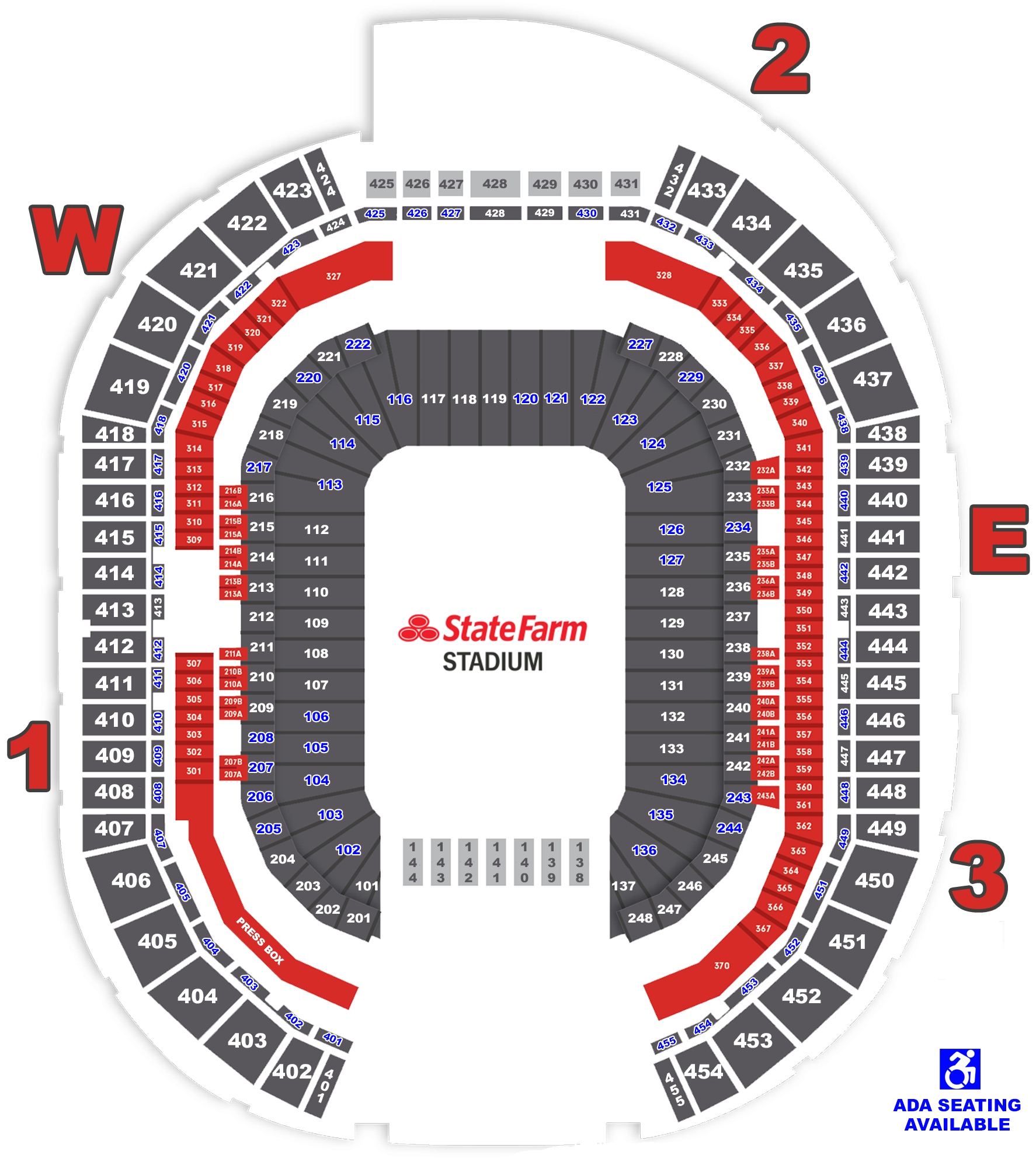 State Farm Stadium has one Sensory Room available for fans with sensitivities or challenges with sensory regulation. This sound-protected space includes sensory active wall displays, sensory toys, low lighting, beanbag chairs, and sensory bags. The Sensory Room is located on the Main Concourse near the Guest Services Booth at Section 104.  
State Farm Stadium welcomes guide, signal, and service animals to accompany fans who require their assistance. However, please note that pets or any other animals are not allowed inside the stadium. 
Wheelchair Assistance (Event Day)
Complimentary wheelchair escorts are available at any entry point. Upon arrival, guests may request an escort by alerting Security or Guest Services teammember or visiting the Guest Services locations at Sections 104, 123, 417, or 448. The service is available to and from the entry gates and seating areas and should be requested for both entry and exiting the stadium. Please be aware that our staff and wheelchair will not remain with you during the event. When exiting the stadium, guests will be brought to the exterior glass doors on the stadium's main Concourse Level. All requests for wheelchair escorts are accommodated on a first-come, first-served basis. A short wait time may be required.