Directions & Parking
State Farm Stadium recommends purchasing parking in advance through SeatGeek.com, the stadium's exclusive ticketing provider. 
Located in the Glendale Sports & Entertainment District, State Farm Stadium is located directly off the Arizona Loop 101 Freeway between Cardinals Way and Glendale Avenue. Home of the NFL's Arizona Cardinals, annual Fiesta Bowl, and major events of all kinds, State Farm Stadium is approximately 30 minutes from Phoenix Sky Harbor Airport and in the proximity of thousands of hotel rooms in and around the Westgate Entertainment District. The preferred rideshare drop off and pickup lot is Black Lot located South of State Farm Stadium. 
Arizona Cardinals Parking & Map
Parking at Sportsman's Park is available for both ticketholders with pre-sold permits and those seeking single-game parking options. When arriving at the stadium, refer to your permit for the designated lot entry point to ensure a smooth and efficient parking experience. 
For fans without pre-sold permits, the Black Lot is the designated area for day-of parking. Simply head to the Black Lot for convenient parking on the day of the event. 
Please note that State Farm Stadium is a cashless venue, and only credit cards are accepted in the parking areas. Make sure to have your credit card ready when paying for parking. 
For more information, visit AZCardinals.com.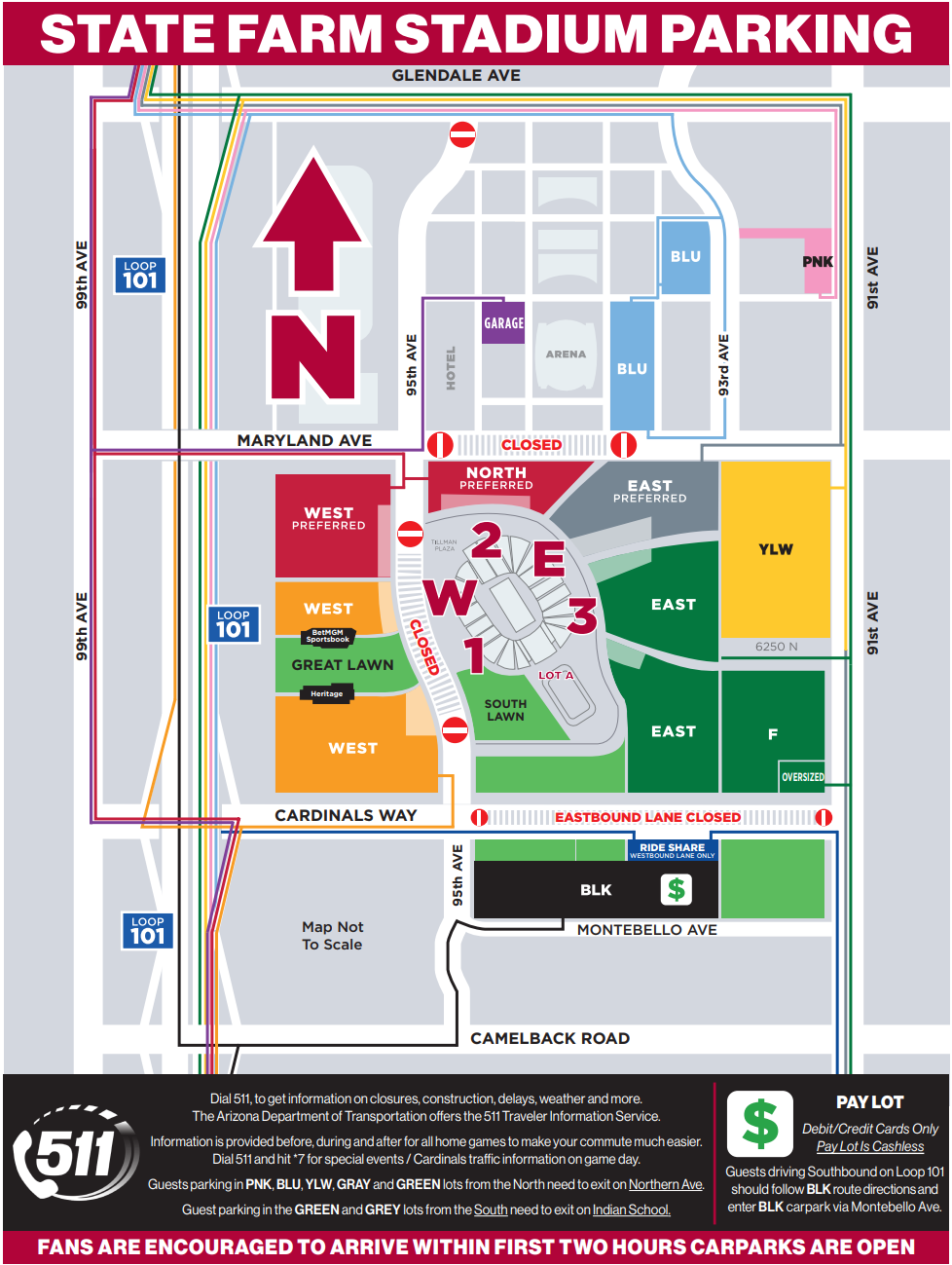 Parking Lot Opening Times
Cardinals Gameday: Parking Lots open four (4) hours prior to kickoff.  
Other Major Events: Please visit the event's detail page prior to the event for the most up-to-date information. 
All Sportsman's Park carparks have designated ADA parking areas. A valid state-issued hangtag or license plate is required to park in the designated ADA parking area. 
Upon arrival to any Sportsman's Park lot, alert the parking attendant you require ADA parking and you will be directed to the closest available space. 
Drop Off, Pick Up, Rideshare
The Rideshare/Family and Friends drop-off and pick-up area is conveniently located south of the stadium in Black Lot.  
Please note, changes may be made on a per-event basis. Please visit the event's detail page prior to the event for the most up-to-date information.
Sportsman's Park is the perfect place for pre-game tailgating with fellow fans. To ensure that everyone has an enjoyable experience, please follow these guidelines: 

Tailgating activities are only allowed in the carparks, beginning from when they open.  
Please respect other fans by occupying only one parking stall. Tailgating activities should take place directly behind your vehicle. Blocking other stalls, walkways, or aisle ways with tents, trailers, chairs, coolers, or barbeques is not permitted. 
Please use above ground weights for your tents, rather than ground stakes. 
Saving other parking spaces is not allowed at any time. Fans who want to tailgate together must arrive together. 
Sportsman's Park carparks close one (1) hour after the event. 

It is important to note that tailgating for Arizona Cardinals games in Sportsman's Park or Team controlled parking areas is intended for game day ticket members only. Tailgating after the game has begun or post-game is not permitted. For more detailed guidelines, please refer to Page 4 of the Arizona Cardinals A-Z Guide.