Safety & Clear Bag Policy
The safety and security of all guests and employees is our number one priority. 
All guests entering State Farm Stadium will be searched and have their belongings scanned. State Farm Stadium personnel reserve the right to confiscate items that may cause damage to the facility or danger/disruption to an event. Guests who violate building policies or decline to be searched may be denied entry or ejected from the stadium. 
To provide a safer environment for the public and significantly expedite fan entry into stadiums, State Farm Stadium has implement an NFL policy that limits the size and type of bags that may be brought into the stadium. Exceptions to this policy will be made for all medically necessary items after proper inspection.
State Farm Stadium strongly encourages fans not to bring any bags, but fans will be able to carry the following style and size bag, package, or container at stadium plaza areas, stadium gates, or when approaching queue lines of fans awaiting entry into the stadium:
Bags that are clear plastic, vinyl or PVC and do not exceed 12" x 6" x 12" or 30.5 x 15.25 x 30.5 cm. This includes clear backpacks, clear fanny packs and clear cinch bags that fit within the permissible dimensions. Official NFL team logo clear plastic tote bags will be available through club merchandise outlets or at nflshop.com.

No buckles, grommets/hardware or décor can be concealing any part of the bag.
One-gallon clear plastic freezer bag (Ziplock bag or similar)
Logo can only be on one side of the bag. Logos cannot exceed 3.4in wide x 4.5in high.

Small bags, non-clear bags that do not exceed 4.5" x 6.5" in size, with or without a handle or strap can be taken into the stadium with a clear plastic bag.
Each ticket holder, including children, will be able to carry an approved clear bag and a clutch purse.
Metal detector screening and a search of all items being carried in will take place at stadium gates. There are no provisions available at the stadium to store or safeguard any prohibited bags. Guests will be asked to return prohibited items to their vehicle.
Diapers and wipes may be carried in a clear bag, however, diaper bags are not permitted.
Additional clothing, blankets, etc. are permitted if carried loosely or in an approved clear bag.

Blankets should be carried over the shoulder to be screened more quickly.

Small cameras, binoculars and cell phones are permitted if carried in loosely or in an approved clear bag.
Seat cushions without pockets, zippers or concealable areas must not exceed 18 inches wide.
Bag Check options are convienently located on the East and West side of State Farm Stadium. State Farm Stadium and the Arizona Cardinals are not responsible for items left behind, lost, stolen, or damaged.
Prohibited items include, but are not limited to: coolers* (unless medically necessary), briefcases, non-clear backpacks, non-clear fanny packs, diaper bags* (unless medically necessary), non-clear cinch bags, non-approved seat cushions* (unless medically necessary), luggage of any kind, computer bags and camera or binocular bags or any non-clear bag larger than the permissible size (4.5" x 6.5").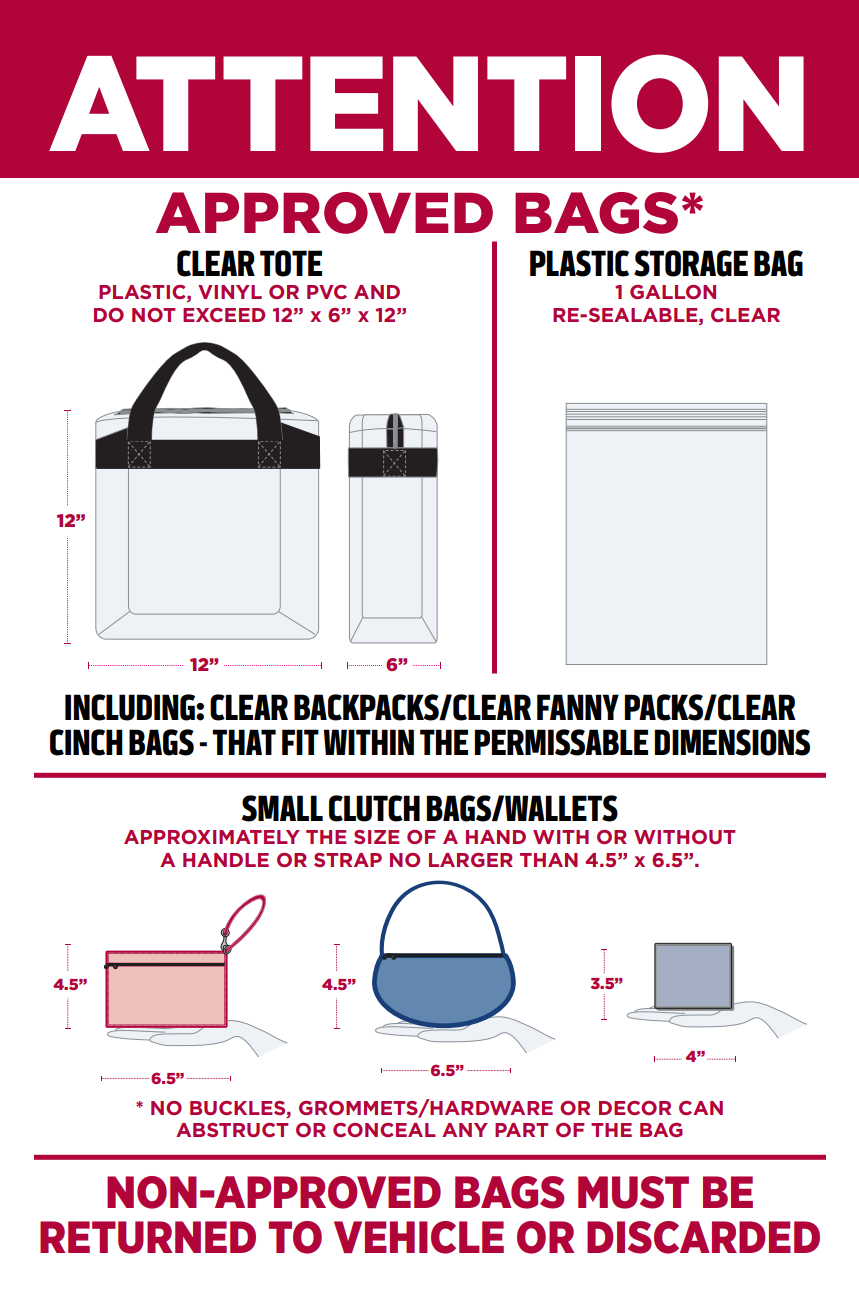 For the safety of everyone at State Farm Stadium, all persons entering the stadium will have their bag searched and walk through a metal detector or be screened with a hand-held metal detector to search for prohibited items. 
The following items are not permitted inside State Farm Stadium. There are no provisions to store items not allowed through security and items cannot be held by security staff members.  
Aerosol Cans 
Alcohol 
Animals (except for service animals) 
Bags not in accordance with the NFL Clear Bag Policy 
Balloons 
Banners or signs larger than 3' x 2'  
Beverages other than one (1) factory-sealed, non-frozen 500mL (16.9 fl. Oz.) plain bottle of water (sport drinks and flavored water not permitted) 
Beverage containers – Glass bottles, cans, souvenir cups, and thermos bottles 
Cameras with professional photo lenses 
Cameras with professional lenses longer than 8" (Arizona Cardinals)
Chewing tobacco 
Clothing deemed obscene or indecent 
Coolers of any kind 
E-cigarettes or vaporizer pens 
Fireworks 
Food (except for children under the age of two) 
Footballs and beach balls (inflated or deflated) 
GoPro cameras  
Illegal drugs 
Laptop computers 
Laser pointers 
Marijuana
Mono/tripods 
Noise makers (whistles, horns, bells, etc.) 
Poles or sticks of any kind, including "Selfie-Sticks" 
Seat cushions except those which are one piece and have no zippers, pockets, or concealable areas.
Skateboards, golf carts, roller blades, or hoverboards.
Souvenir popcorn buckets
Umbrellas larger than 12 inches in length 
Unmanned aircraft systems (drones, etc.)
Video cameras  
Weapons including, but not limited to, explosives, firearms & knives 
Any item deemed inappropriate or hazardous by stadium security 
See Something, Say Something
The If You See Something, Say Something campaign is a simple and effective program to engage the public and key frontline team members in identifying and reporting indicators of terrorism, crime and other threats to the proper transportation and law enforcement authorities. If you See Something, Say Something! To report suspicious activity, see the nearest Guest Experience Representative or Security team member or text the Gameday Text Message Hotline at 623-400-2210.