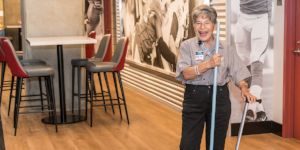 On event days, State Farm Stadium's Guest Relations, Housekeeping and Operations Teams provide the highest level of customer service to all of our guests. Outgoing, enthusiastic and energetic individuals are encouranged to apply to join the State Farm Stadium Team.
State Farm Stadium is operated by SMG, the gold standard in public facility management. To apply for available employment opportunities, visit the SMG Career Site and click Arizona.
SMG is an Equal Opportunity/Affirmative Action employer and encourages Women, Minorities, Individuals with Disabilities, and protected Veterans to apply. VEVRAA Federal Contractor.
More

Info